Self Storage in Great Yarmouth
share
Great Yarmouth's Top Self Storage Choices on Explorage.com: Instant Availability & Direct Booking
rocket_launch Need Assistance deciding on what storage space you require?
Storage Sizes
verified_user

Price Guarantee

close

Same prices and discounts as when booking direct. No booking fees. Find cheaper? We'll refund the difference.
thumb_up

Free Cancellation

close

No strings attached! Enjoy the flexibility of free cancellation with Explorage.com. Life can be unpredictable, but your storage booking doesn't have to be. Book with confidence, knowing you can cancel hassle-free if plans change.
Sorted by: Distance from location
Results: 3
---
Units available from 30ft2 to 160ft2
---
Units available from 40ft2 to 160ft2
CB Self Storage
Cambridge
- 75.75 miles from search
Padlock your unit and use our pin-entry system to access our dry facility.
Come and go as you please with 24 hour a day, 7 days a week access to your unit.
Our facility is monitored 24/7 with lift access to upper floors.
---
Units available from 35ft2 to 500ft2
You have 0 locations in your favourites! View now
Discovering Great Yarmouth's Ultimate Self Storage Solutions with Explorage.com
Explorage.com: Your Premier Self Storage Solution in Great Yarmouth
Welcome to Explorage.com, the go-to platform for all your self storage needs in Great Yarmouth. With an extensive range of facilities spread across the picturesque coastal town, we take pride in our ability to connect our clients with the ideal storage space that matches their unique requirements.
Why Choose Self Storage in Great Yarmouth?
Located on the eastern coast of England, Great Yarmouth offers a blend of historical charm and modern conveniences. As the town's residents and businesses evolve, so do their storage requirements. Perhaps you're downsizing and require extra space to keep treasured belongings, or maybe you're a local business in need of storage for inventory. Regardless of the reason, our platform ensures that finding the right storage solution is seamless and straightforward.
Benefits of Using Explorage.com in Great Yarmouth
1. Instant Availability: Explorage.com showcases real-time self storage availability. No more tedious phone calls or visits. Browse the options, and pick the perfect fit for you.
2. Comprehensive Comparison:*With various storage operators listed on our platform, we offer a detailed comparison feature. From size to location and pricing, all the information you need is at your fingertips.
3. Secure Online Booking: Once you've found the perfect self storage facility in Great Yarmouth, the booking process is quick, secure, and hassle-free.
What to Consider When Booking Self Storage in Great Yarmouth
Space Requirements: Start by evaluating how much space you need. This avoids overpaying for space you won't use or realising you've booked a unit that's too small.
Location: While Great Yarmouth is easily navigable, choosing a storage facility near your residence or place of business can save time, especially if you'll be accessing your belongings frequently.
Duration: Whether it's a short-term solution during a move or a longer-term requirement, knowing how long you need the storage can help in making cost-effective decisions.
Special Requirements: Do you have items that need climate-controlled storage? Or perhaps 24/7 access is crucial for you? Factor in all your specific needs.
Self Storage for Every Need
Residential Storage: Perfect for those in between moves, renovating their homes, or simply needing more space.
Business Storage: Great Yarmouth's businesses, both big and small, can benefit from self storage, whether it's for documents, inventory, or equipment.
Student Storage: Students in and around Great Yarmouth can make use of our self storage solutions, especially during holidays or gap years.
Vehicle Storage: With secure facilities, you can also find suitable spaces for your vehicles, be it cars, motorcycles, or larger vehicles.
A Community-Centric Approach
Great Yarmouth is more than just a location for us. It's a community filled with vibrant histories, businesses, and families. Our aim at Explorage.com is to provide solutions that complement and enhance the lives of its residents. By ensuring a streamlined approach to self storage, we are helping the community grow, evolve, and transition through different phases of life.
Ready to Book Your Self Storage in Great Yarmouth?
At Explorage.com, we're all about making self storage simple and efficient. With an easy-to-use platform and a dedicated team ready to assist, your perfect storage solution in Great Yarmouth is just a few clicks away.
Whether you're a local, a business owner, or new to the town, join the multitude of satisfied customers who've found their ideal storage match with us. Dive in, explore the options, and let Explorage.com redefine your self storage experience in Great Yarmouth.
Storage Size Information
Storage comes in a variety of shapes and sizes and a range of different types. Below you will find an image showing each size; including what types of items you can fit inside.
10 sq ft
Ideal for personal items such as student luggage.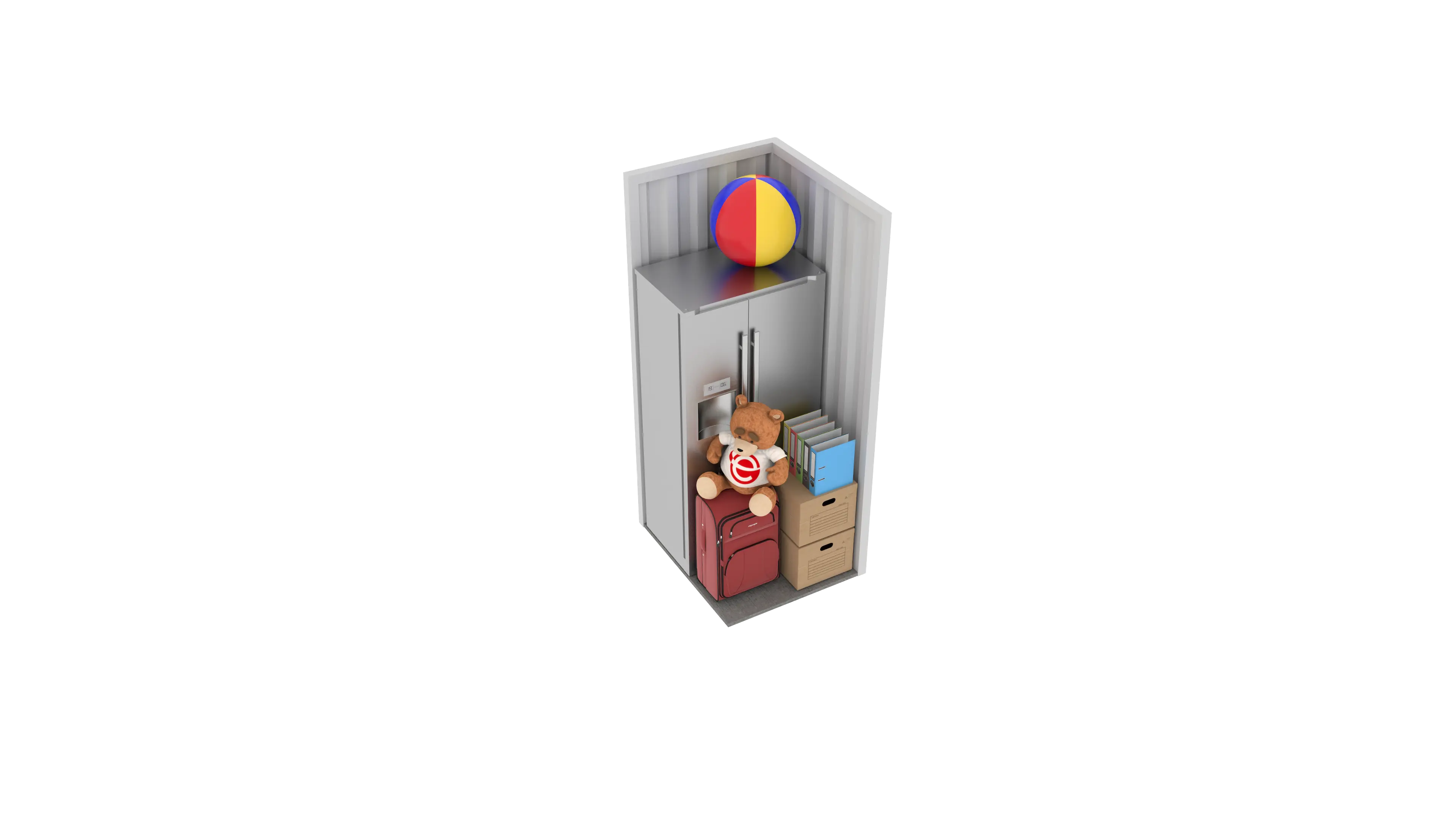 zoom_in
15 sq ft
About the size of a small shed; will take some appliances and personal items.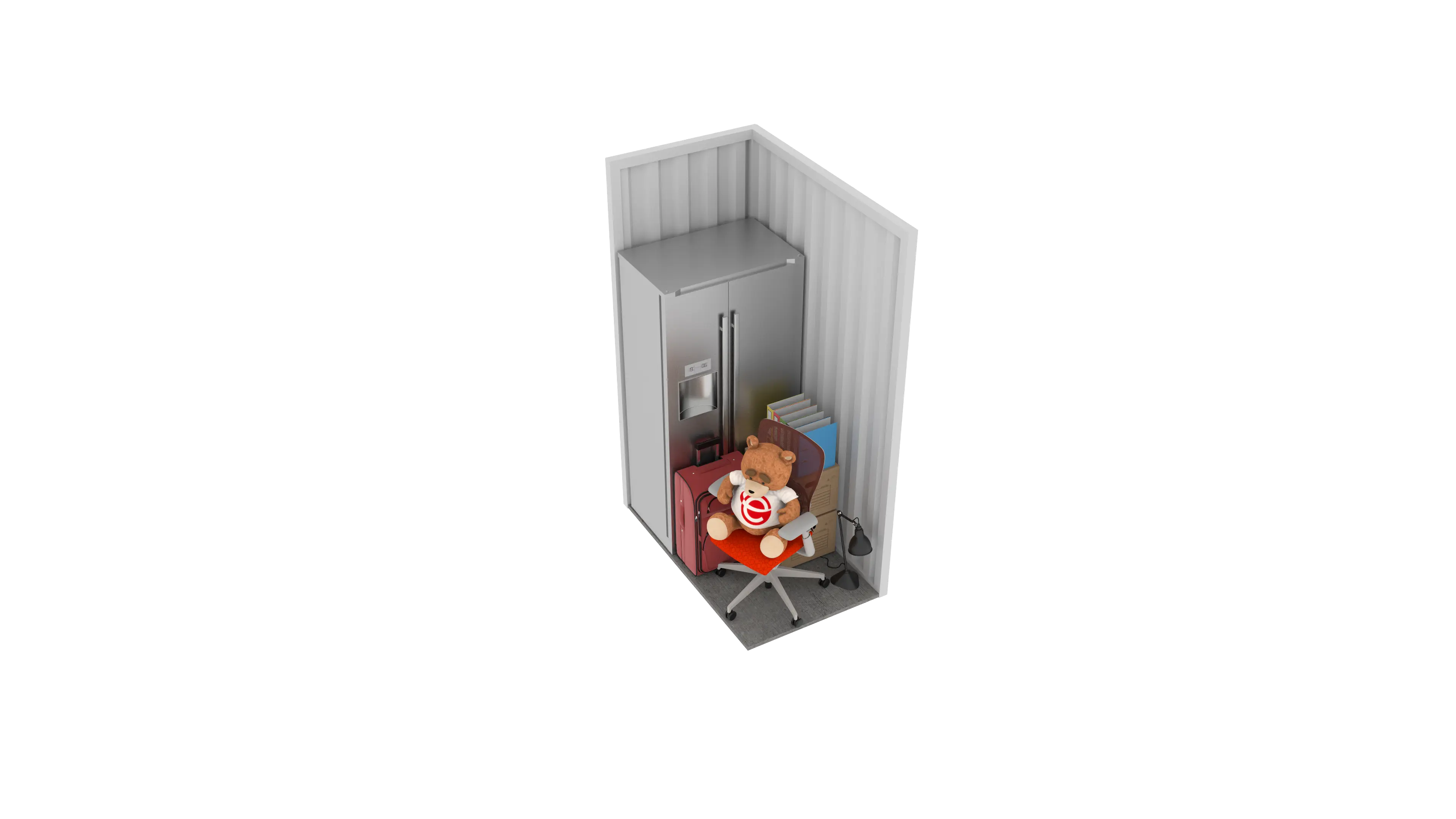 zoom_in
16 sq ft
Similar to a small shed, for personal items, boxes and appliances.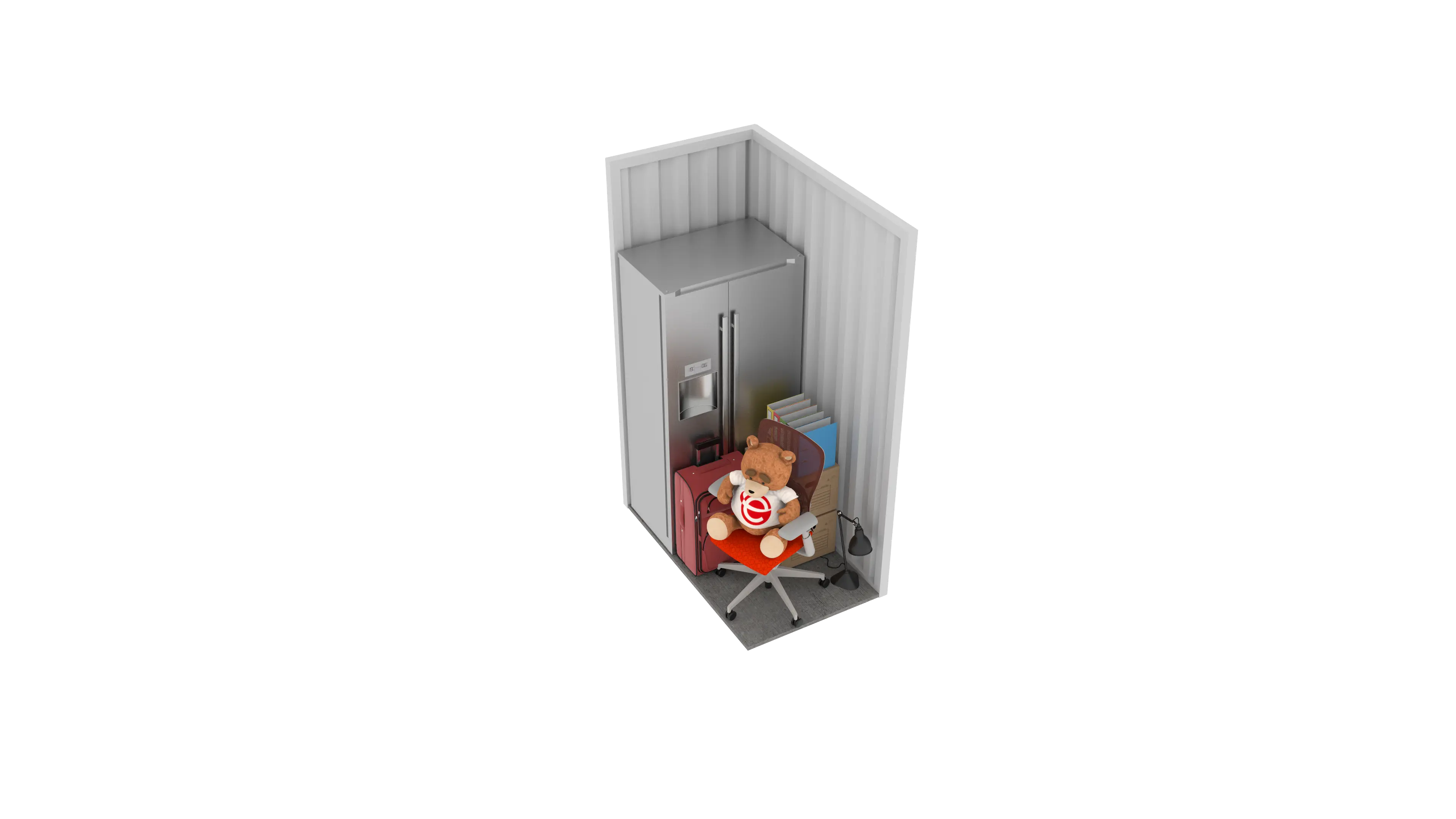 zoom_in
20 sq ft
About the size of two telephone boxes. Good for sports equipment.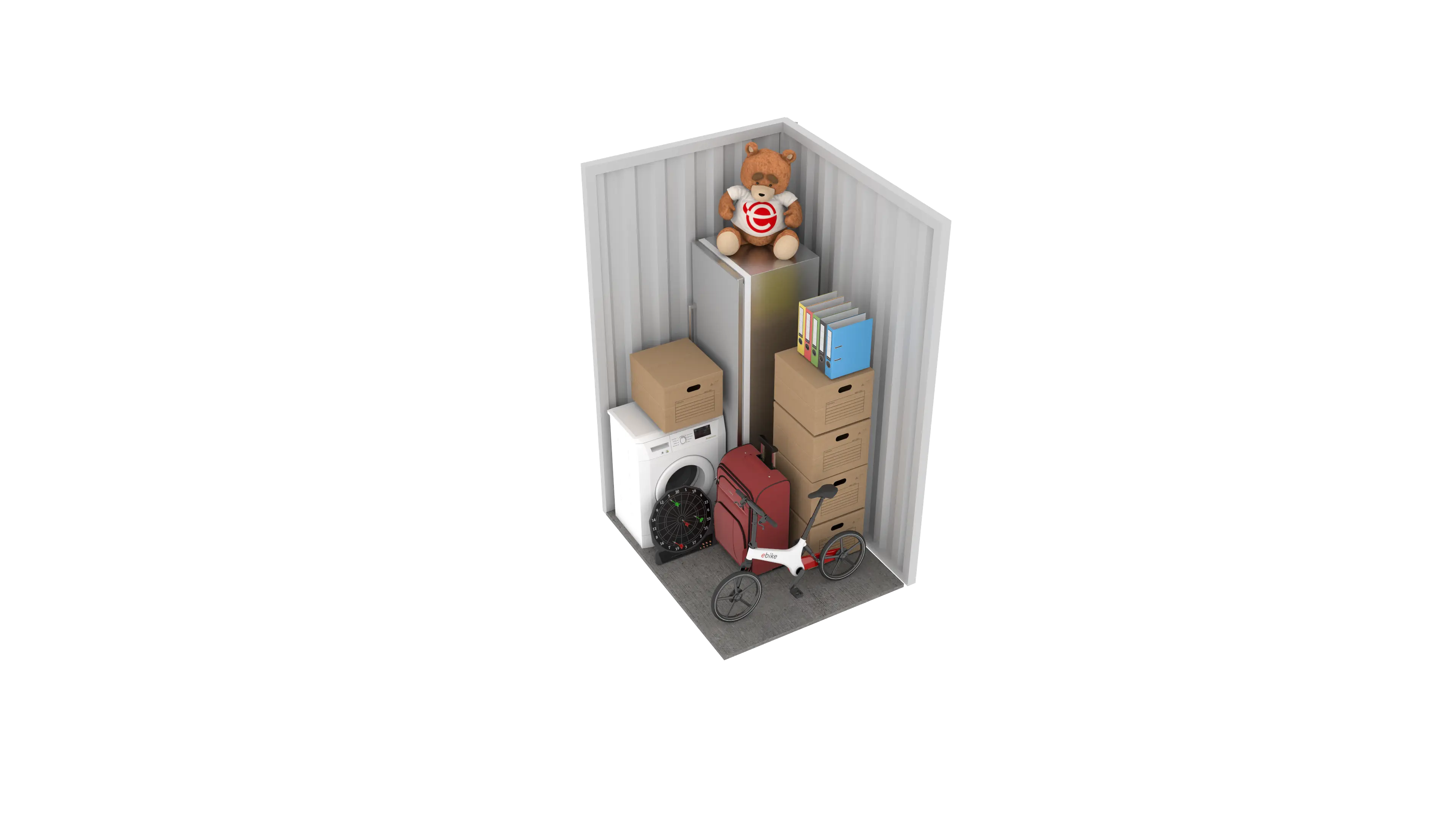 zoom_in
25 sq ft
Useful for decluttering personal items, appliances, and boxes.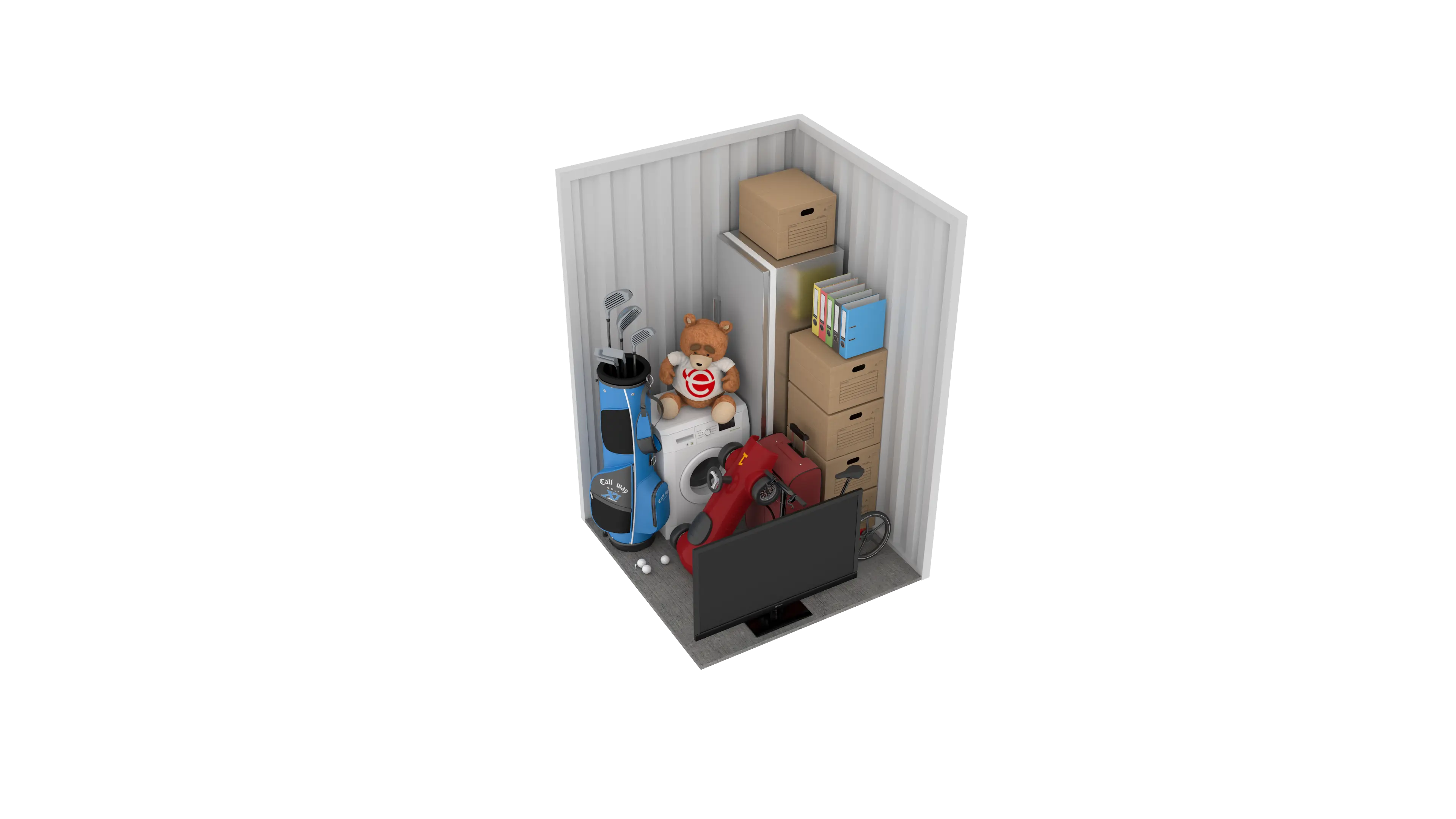 zoom_in
30 sq ft
Ideal for the contents of a small bedroom.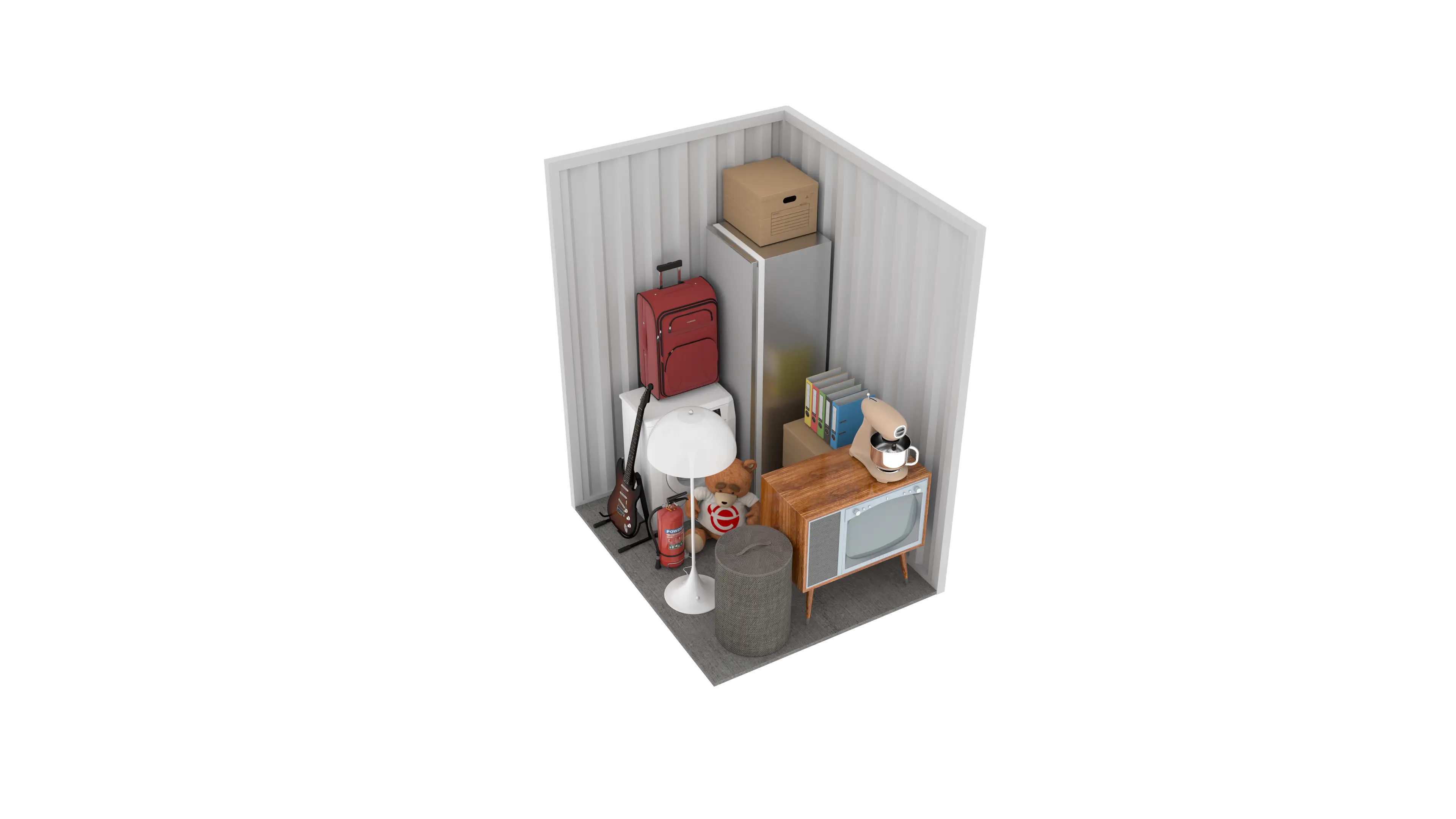 zoom_in
35 sq ft
Average garden shed size.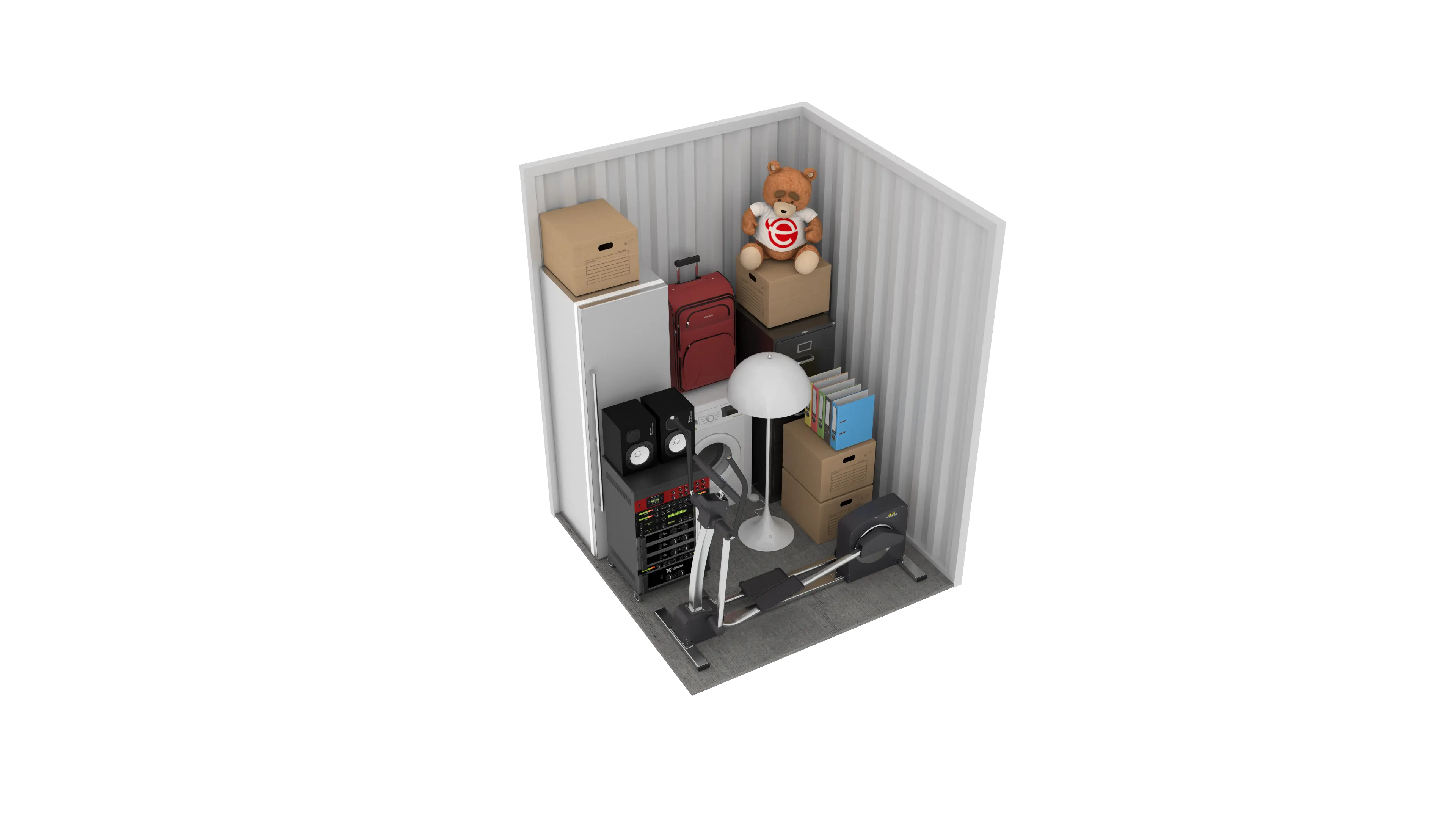 zoom_in
38 sq ft
Great for the contents of a small studio apartment.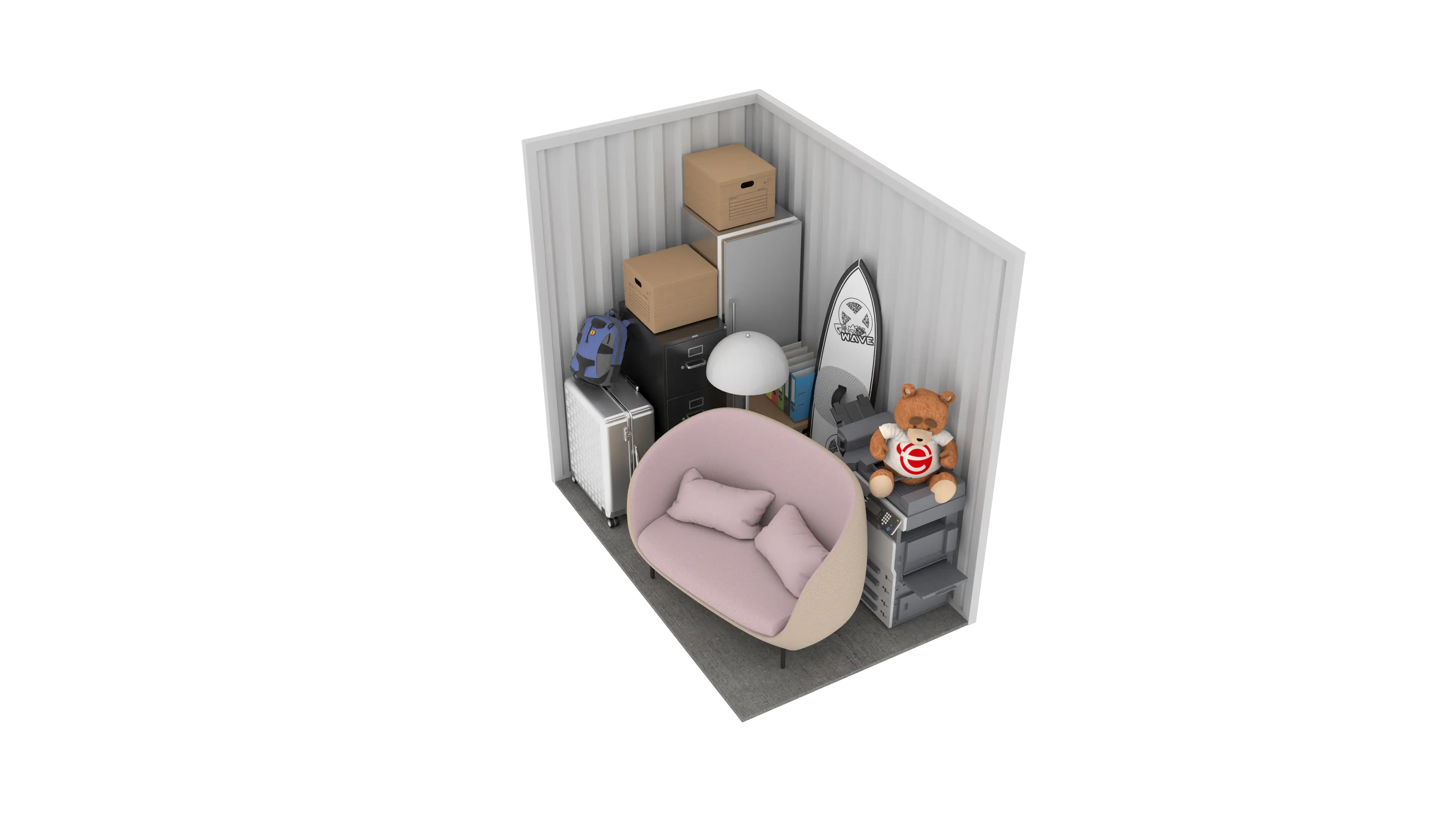 zoom_in
40 sq ft
Should hold the contents of your average transit van.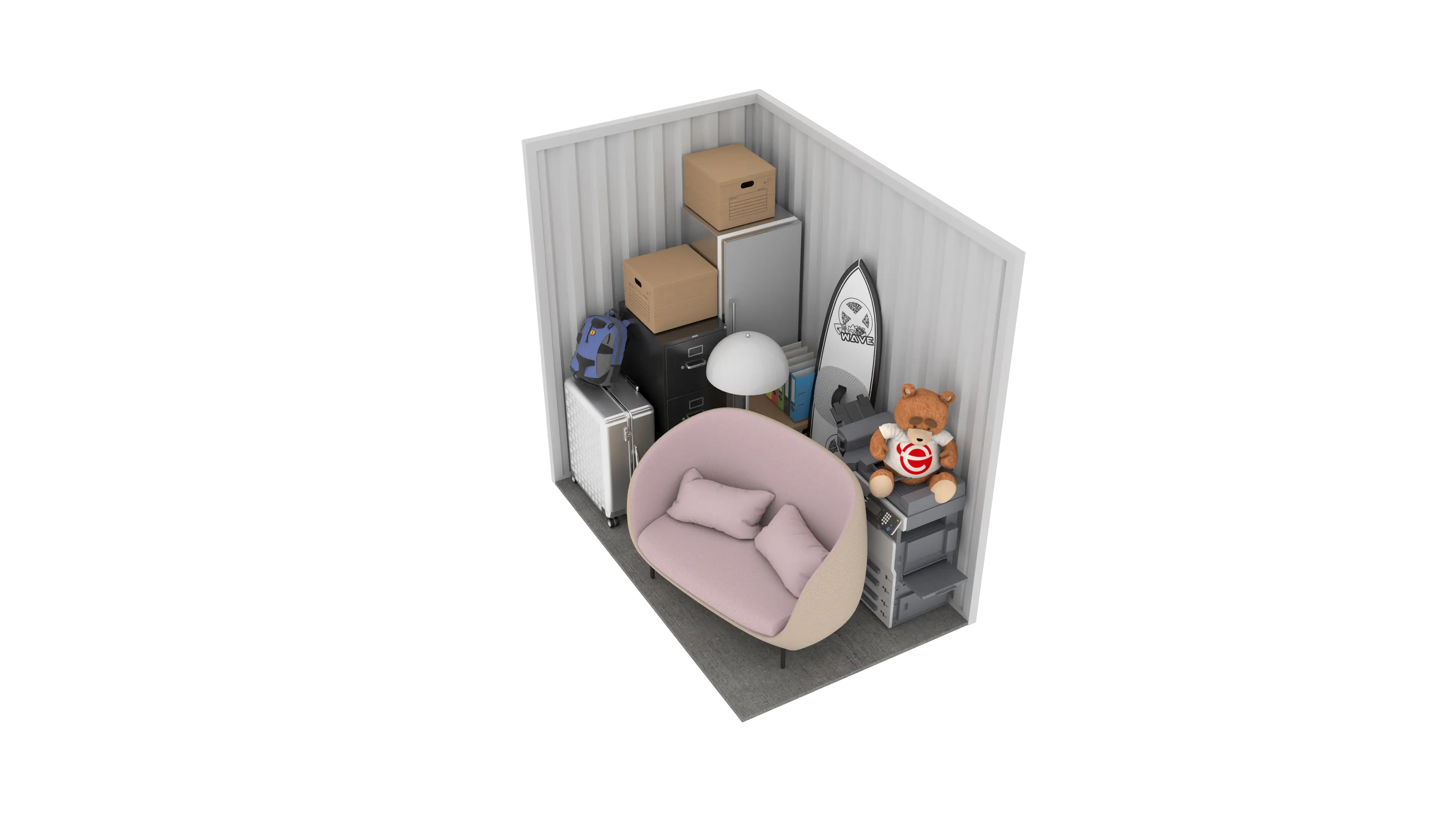 zoom_in
50 sq ft
Popular with students, useful for a 1-bed flat.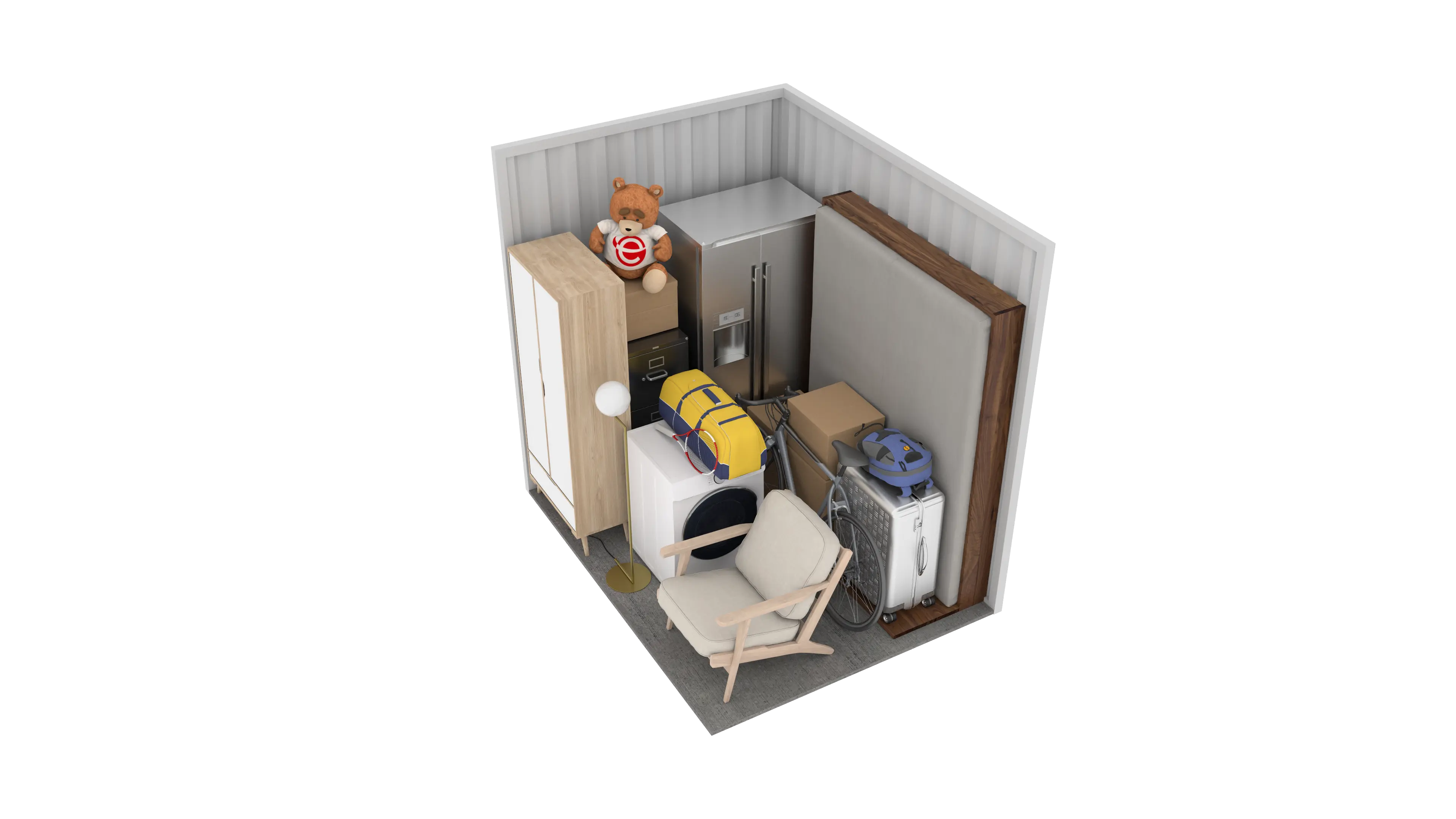 zoom_in
60 sq ft
Ideal for the contents of a 1-2 bed flat.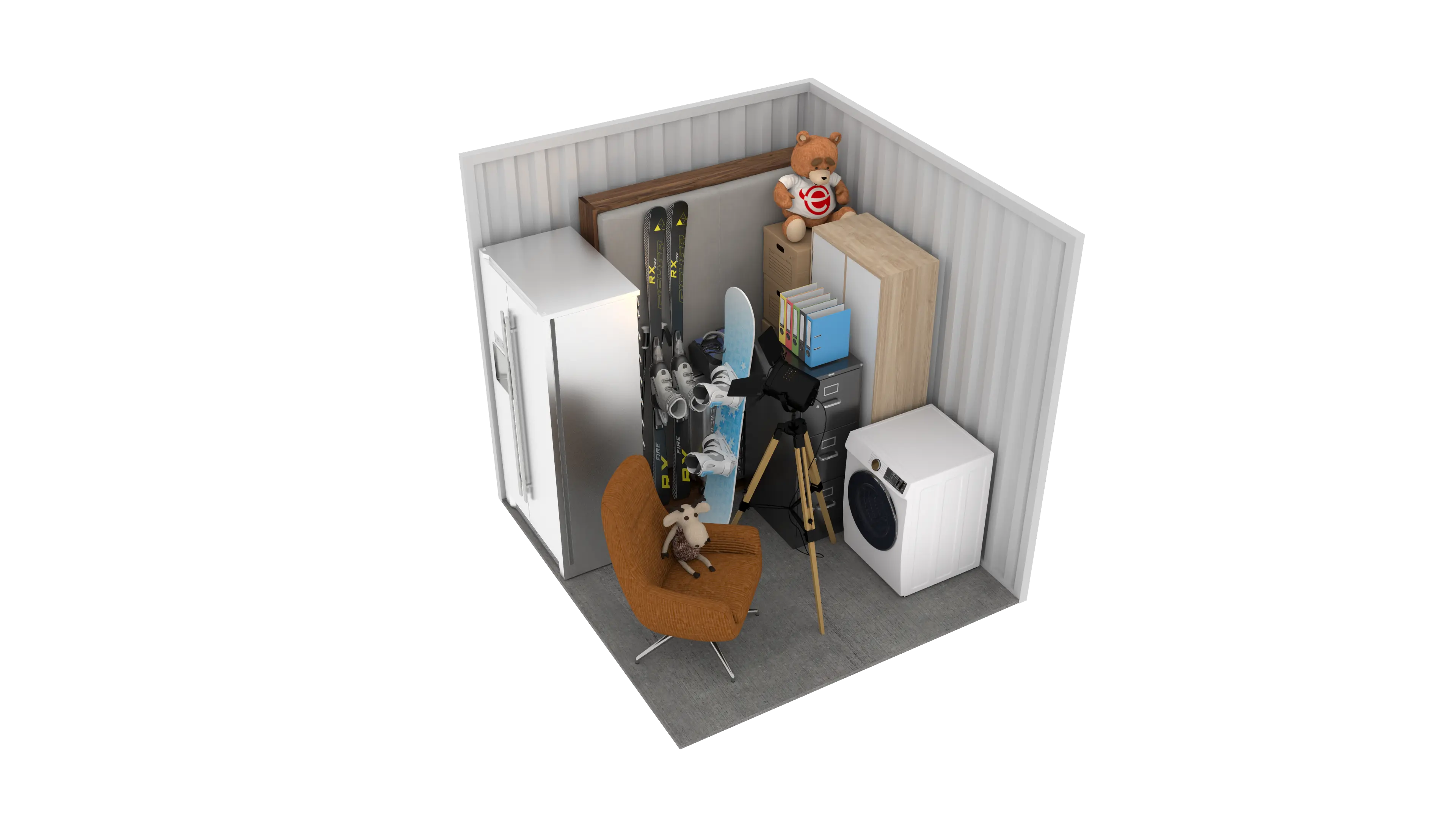 zoom_in
65 sq ft
Contents of a 2-bed flat should easily fit in here.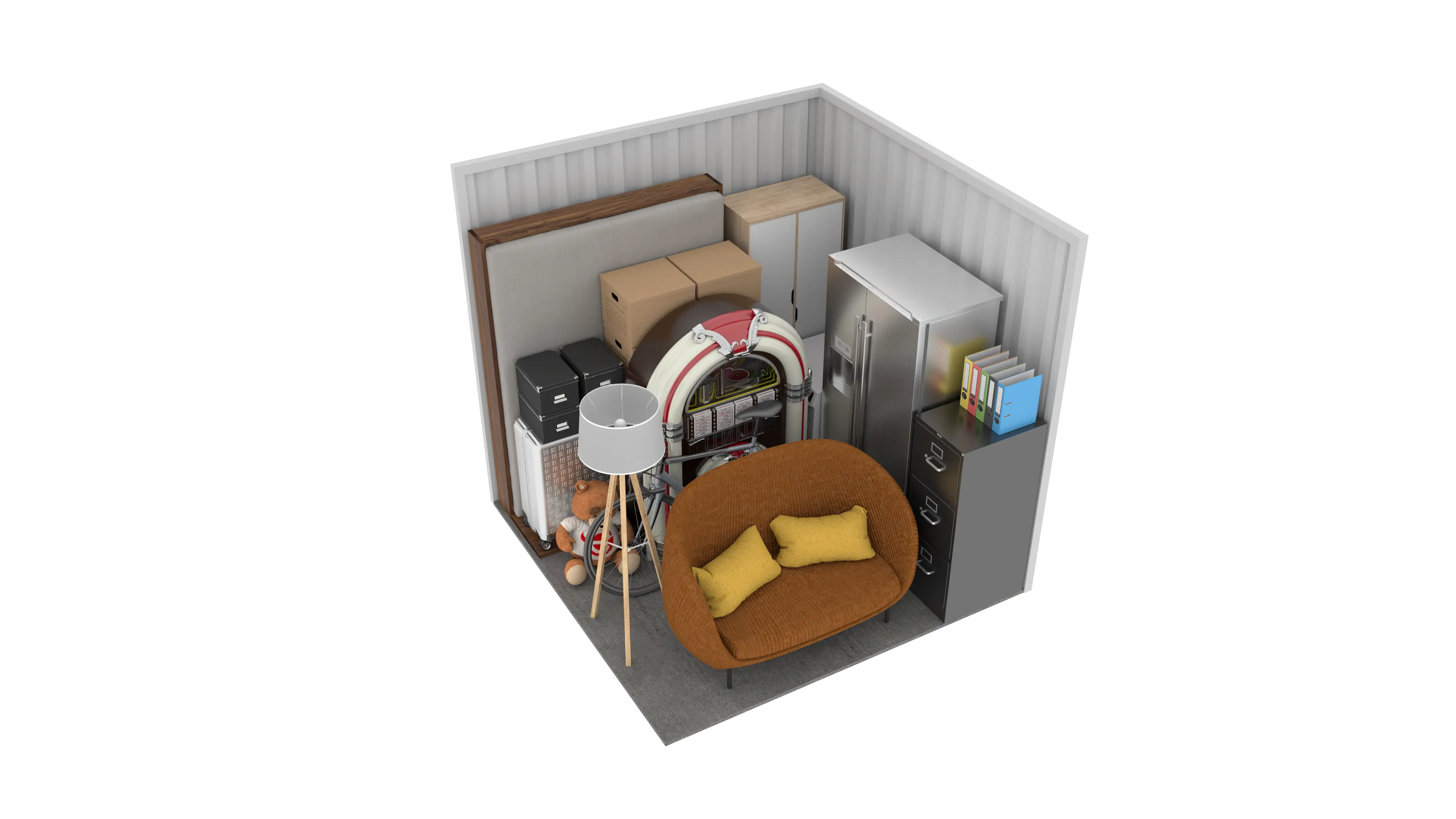 zoom_in
70 sq ft
Great for 2-bed house and apartment dwellers.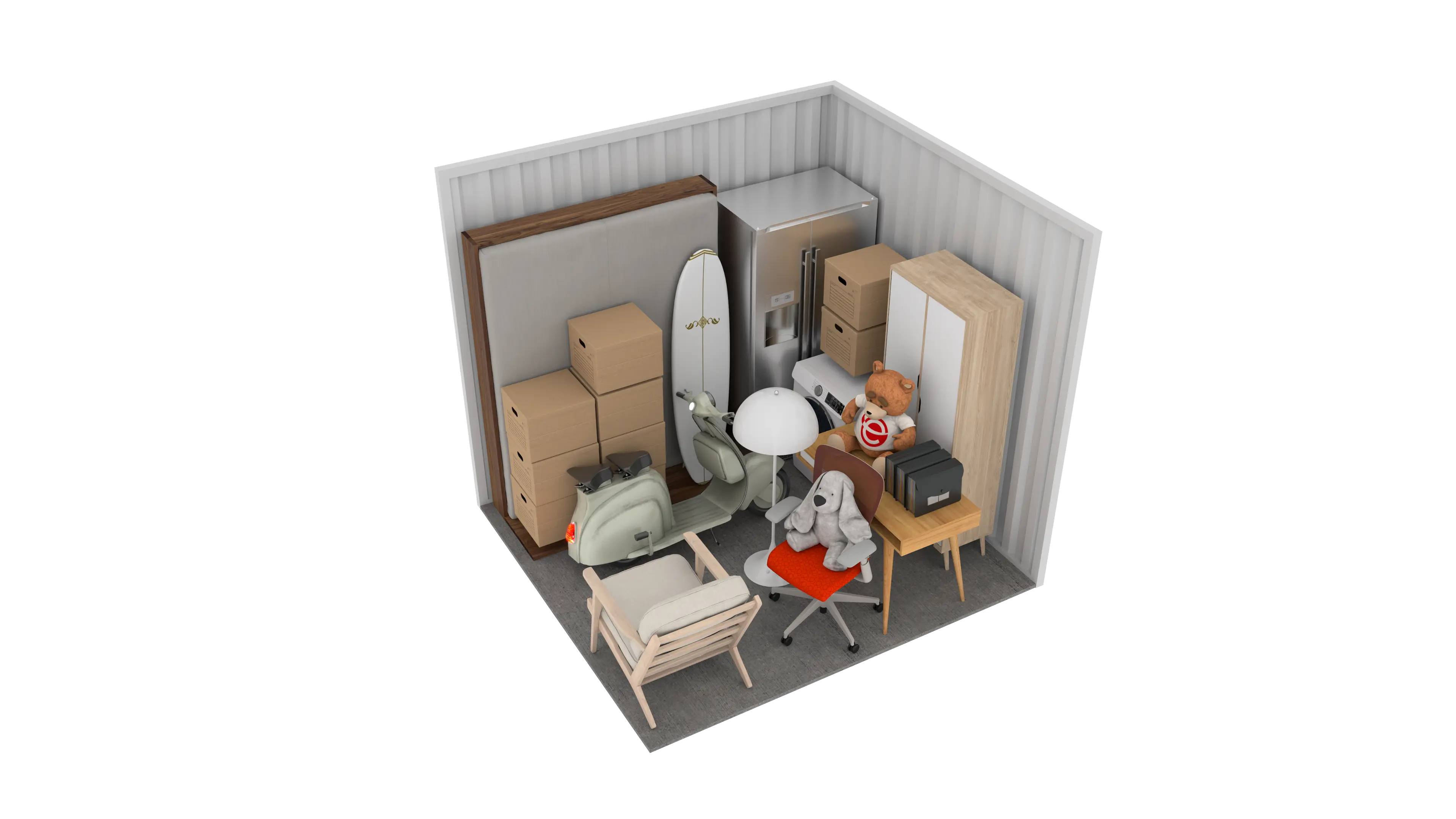 zoom_in
75 sq ft
Ideal for the contents of a 2-bed house.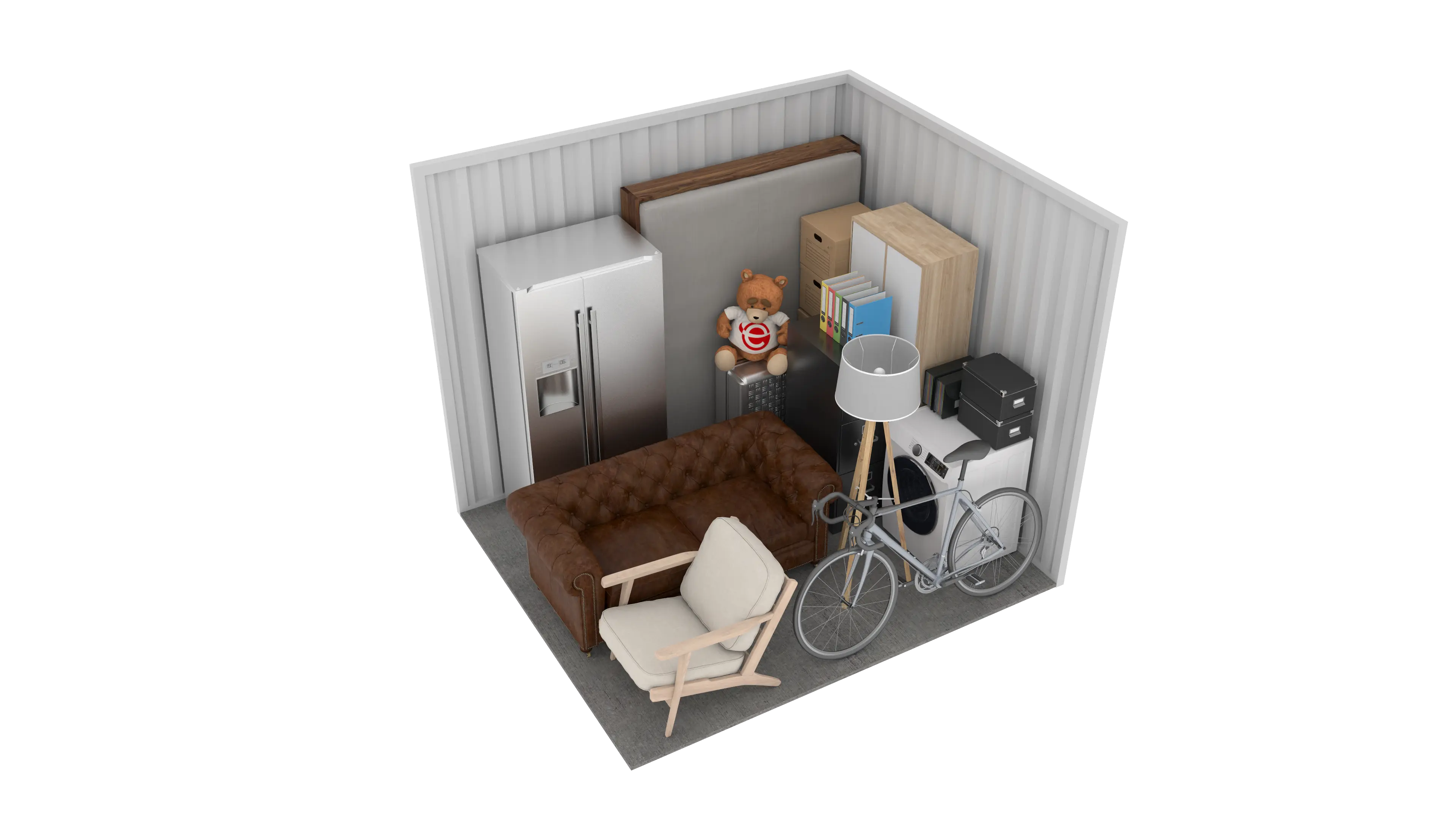 zoom_in
80 sq ft
Half the size of your average shipping container.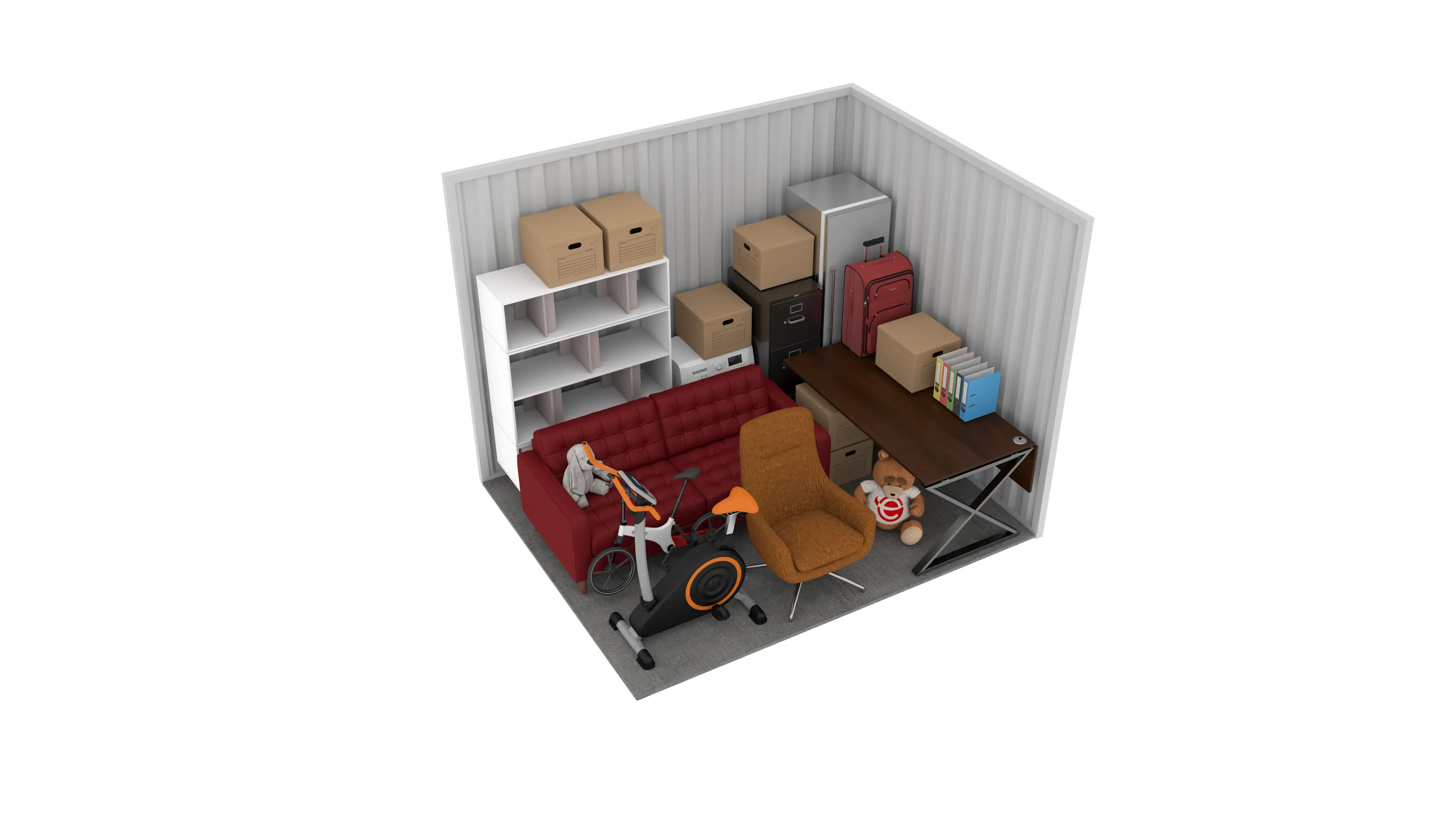 zoom_in
90 sq ft
Good choice for a small 2-bed house move.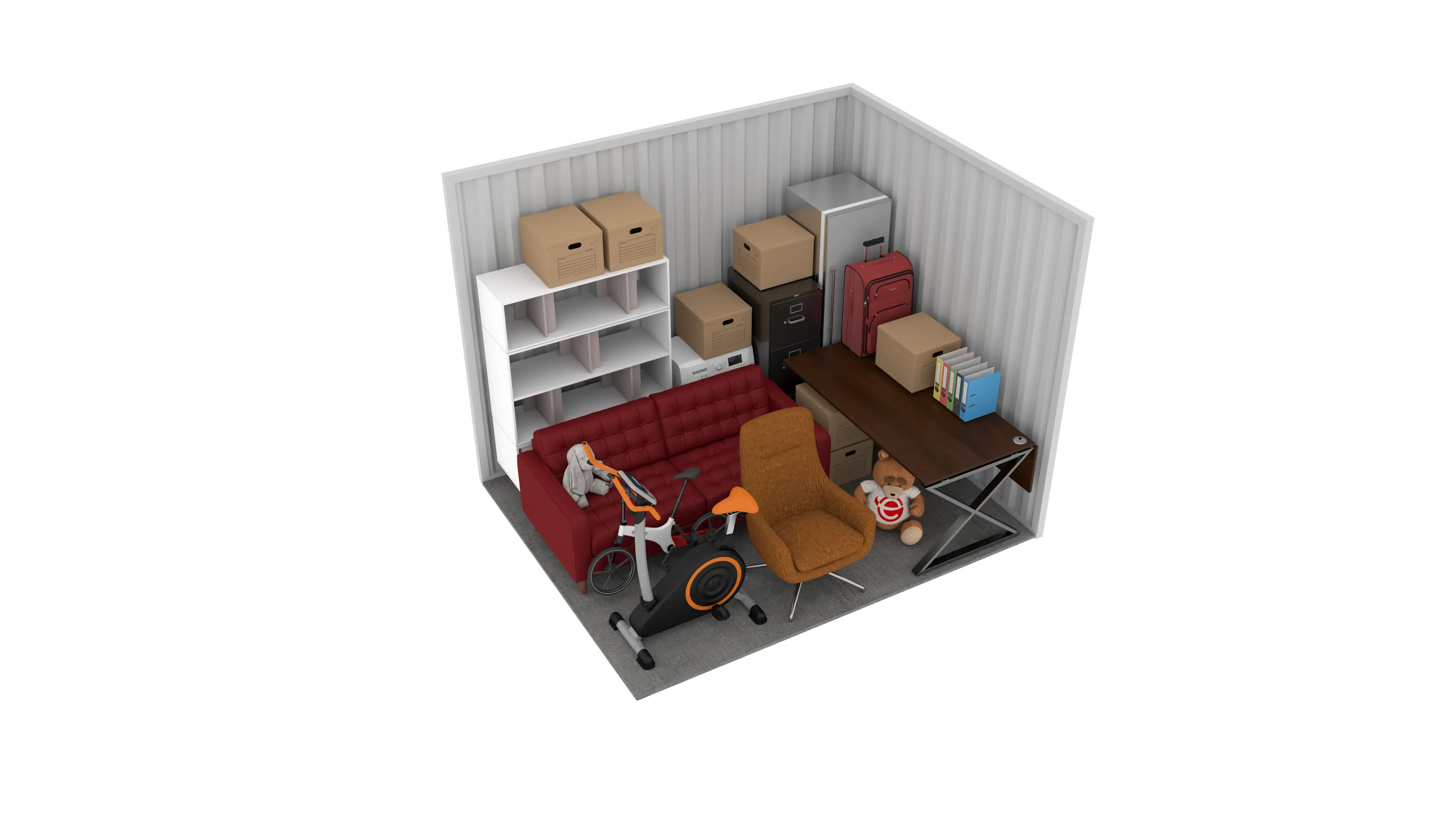 zoom_in
100 sq ft
Approximately the size of a single garage.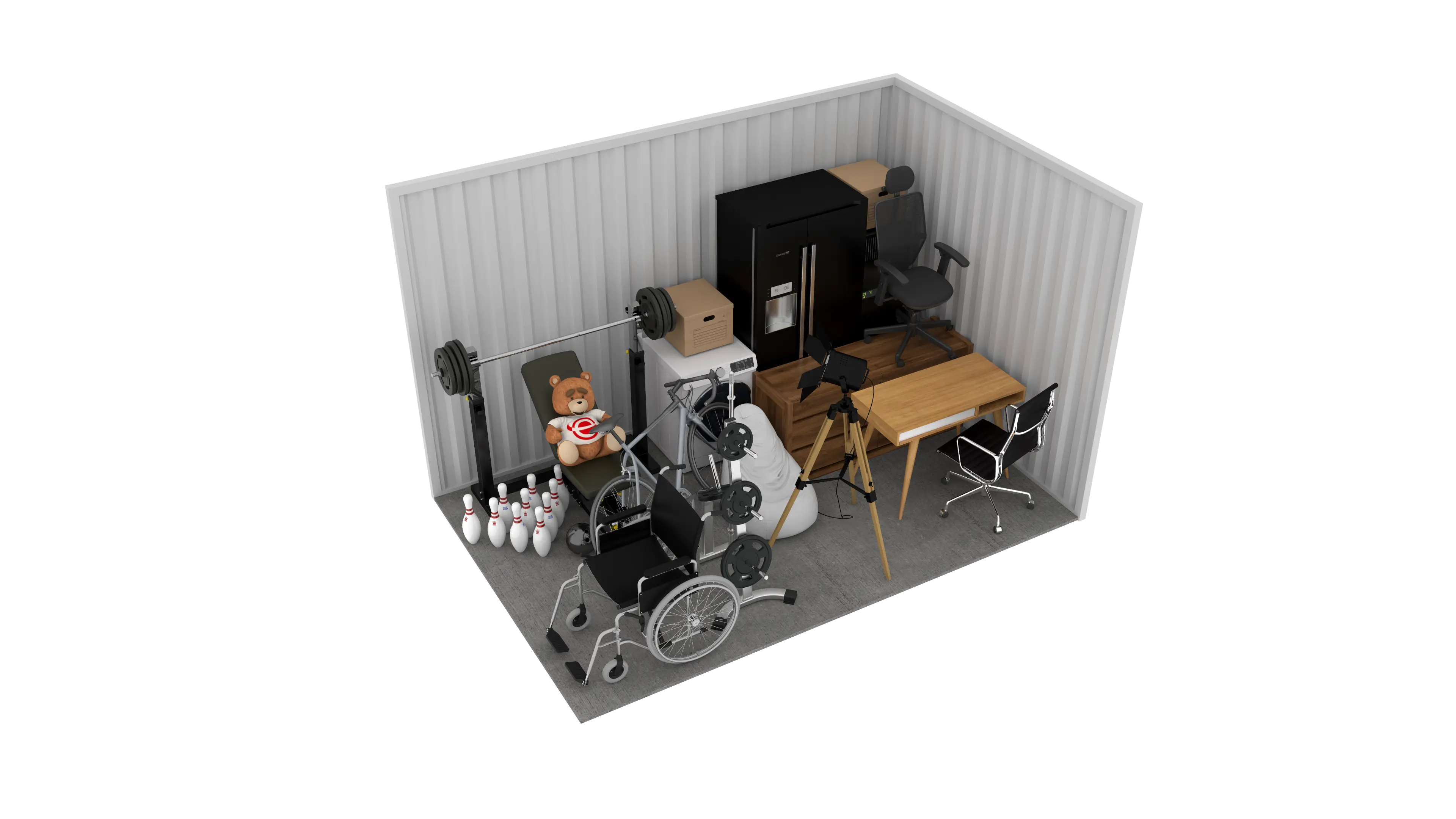 zoom_in
105 sq ft
Great for a small house move.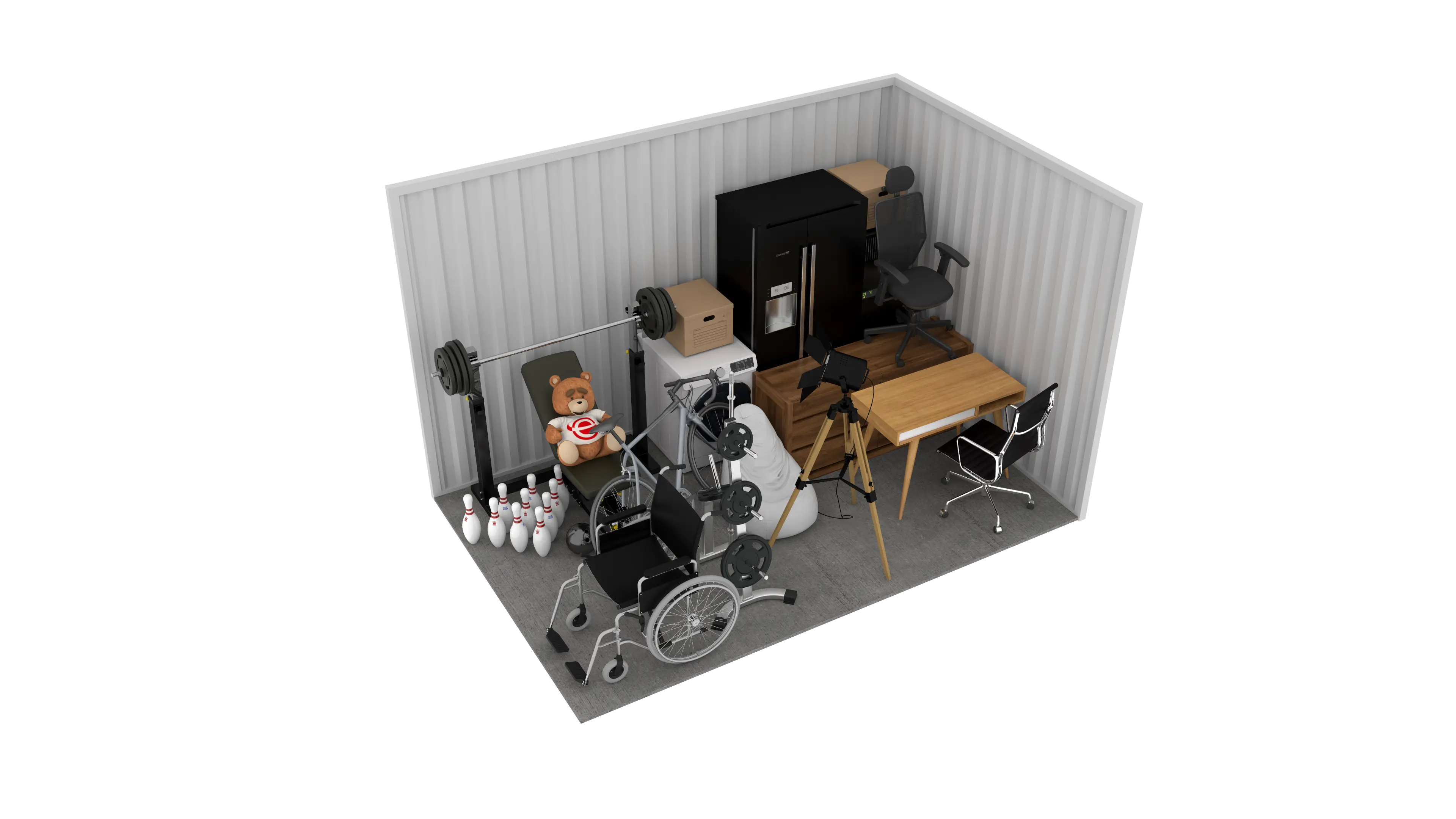 zoom_in
120 sq ft
Good choice for a small 3-bed house.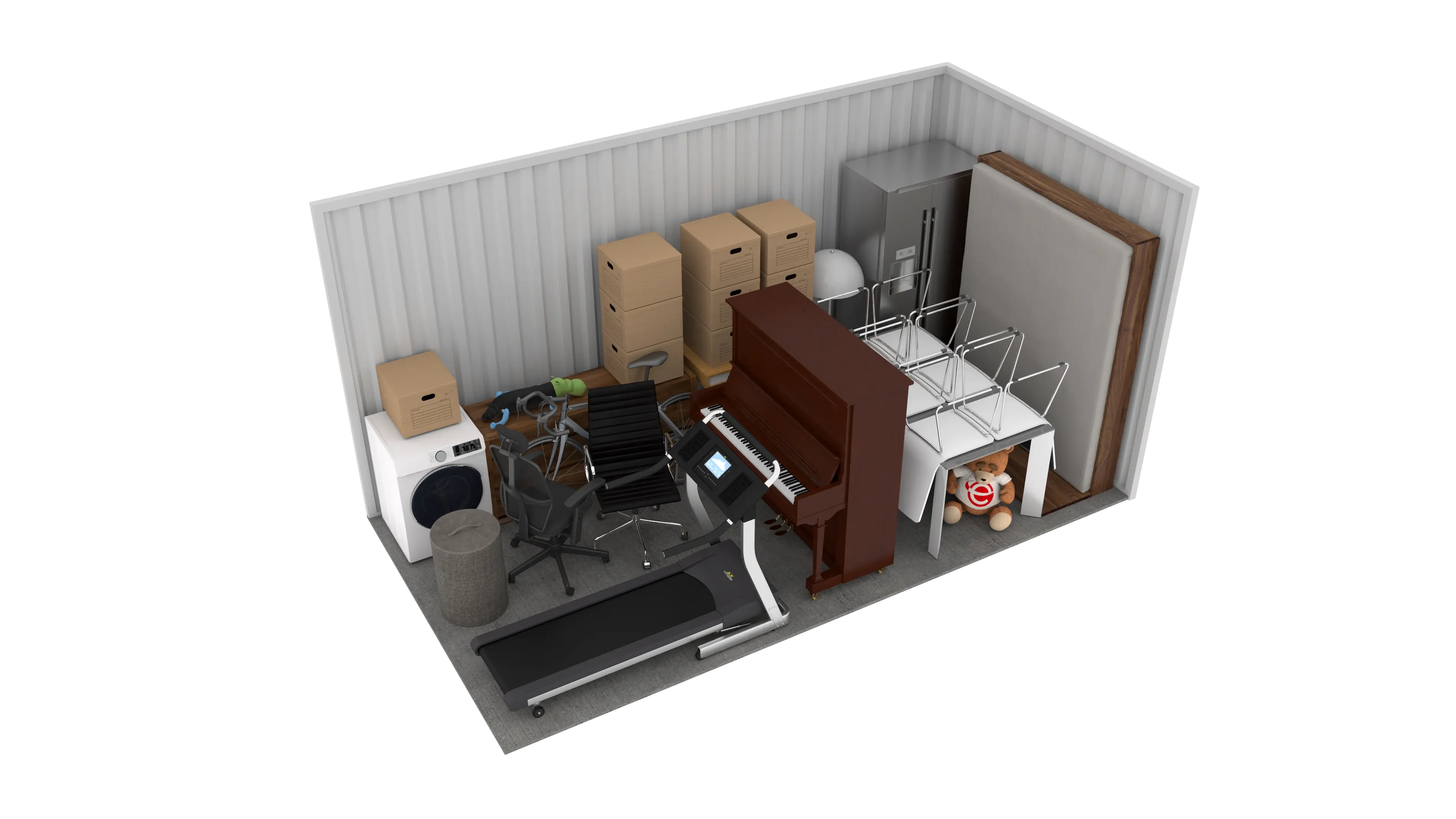 zoom_in
125 sq ft
Ideal for a 3-bed house.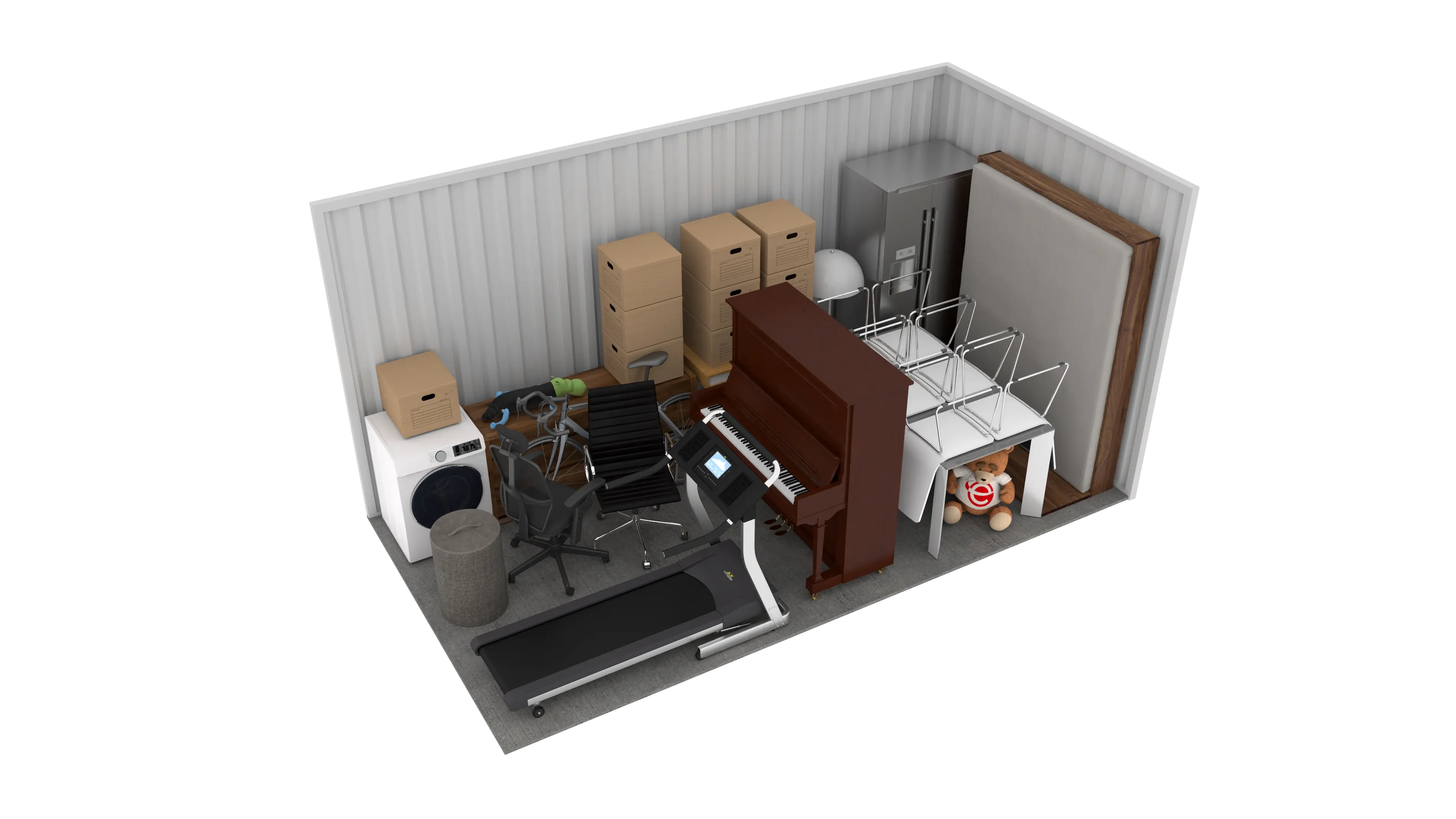 zoom_in
130 sq ft
Approximate size of a large single garage.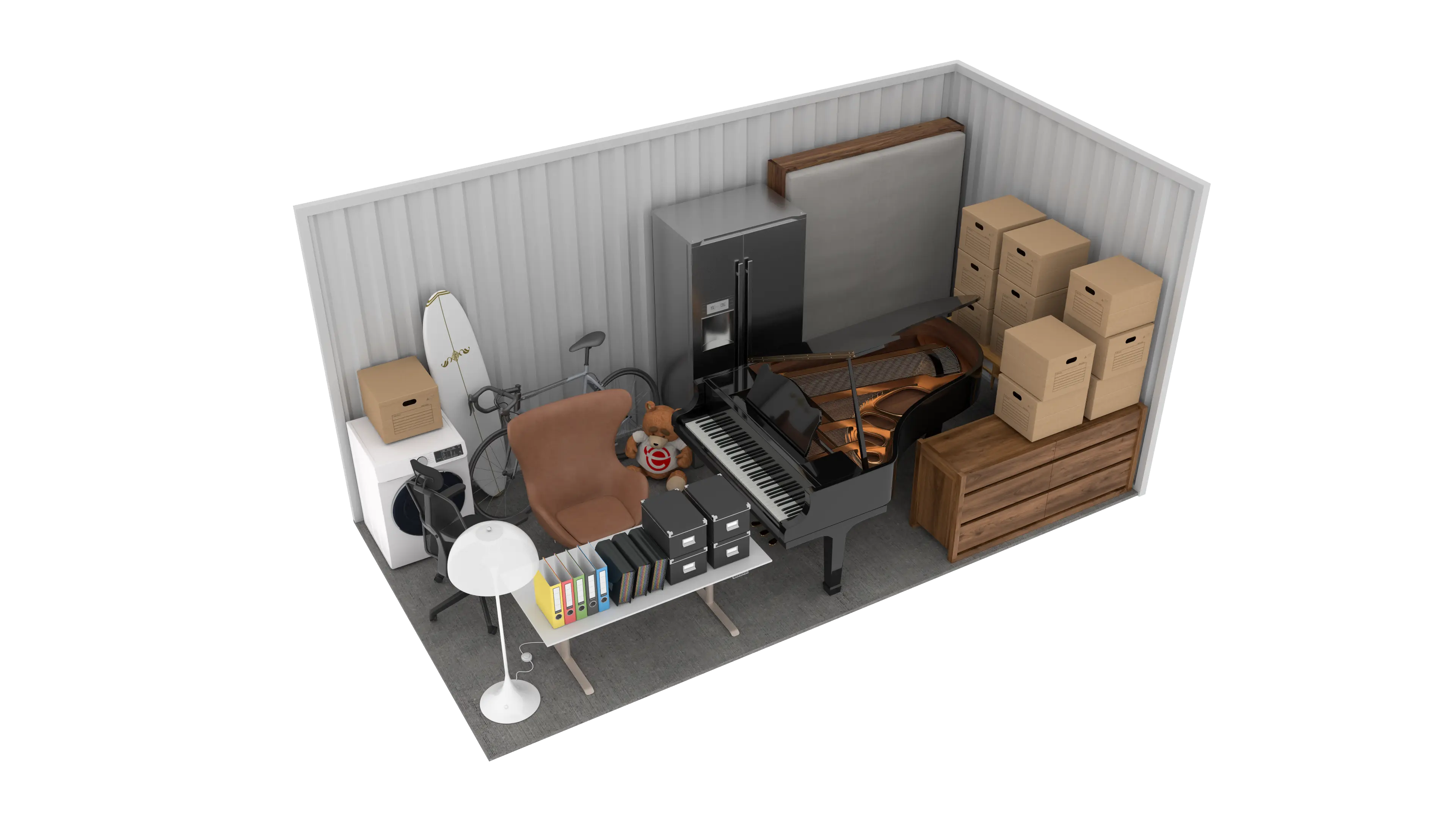 zoom_in
150 sq ft
Great for a 3-bed house move.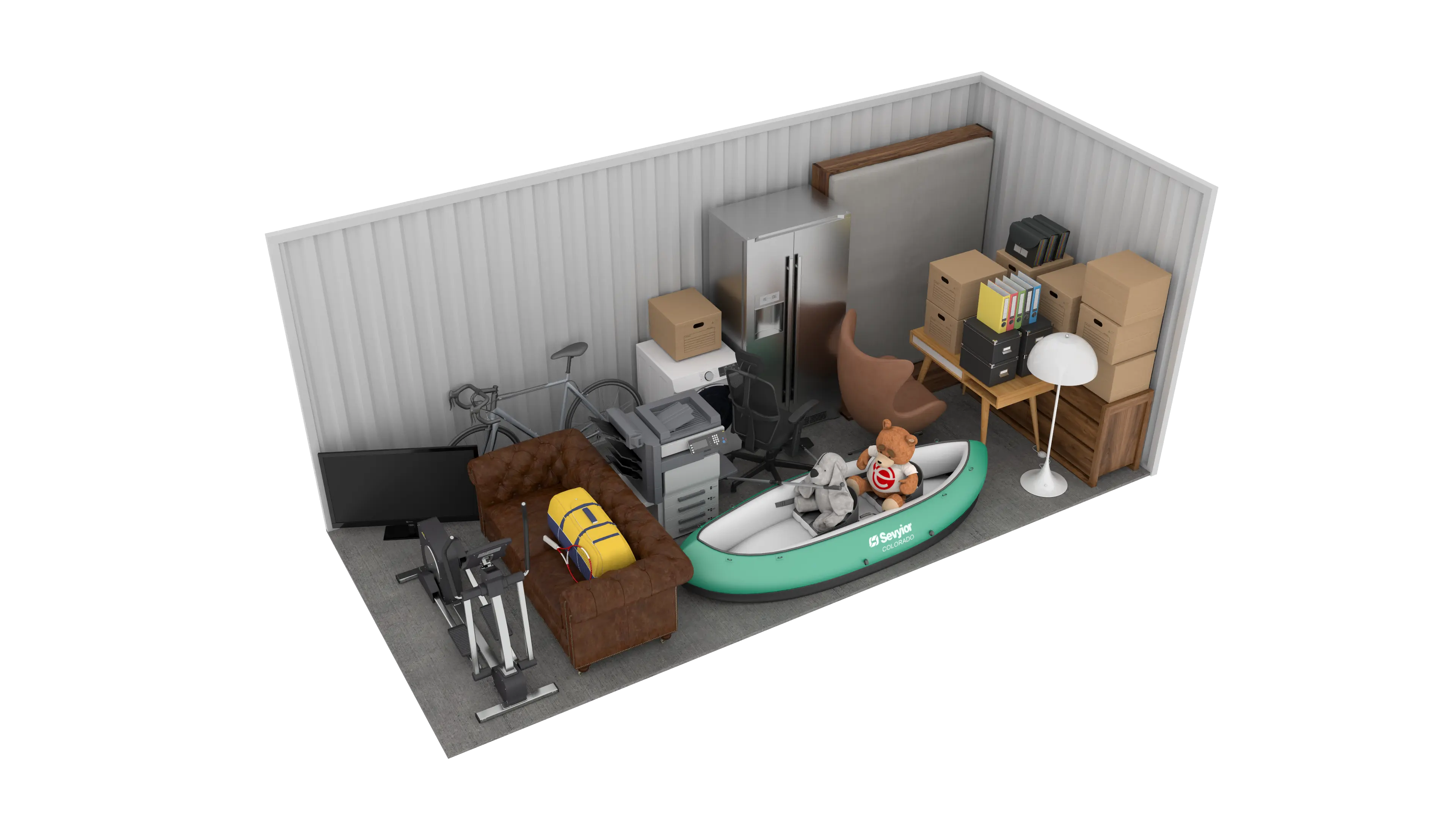 zoom_in
160 sq ft
Average shipping container size. Ideal size for a 3-4 bed house.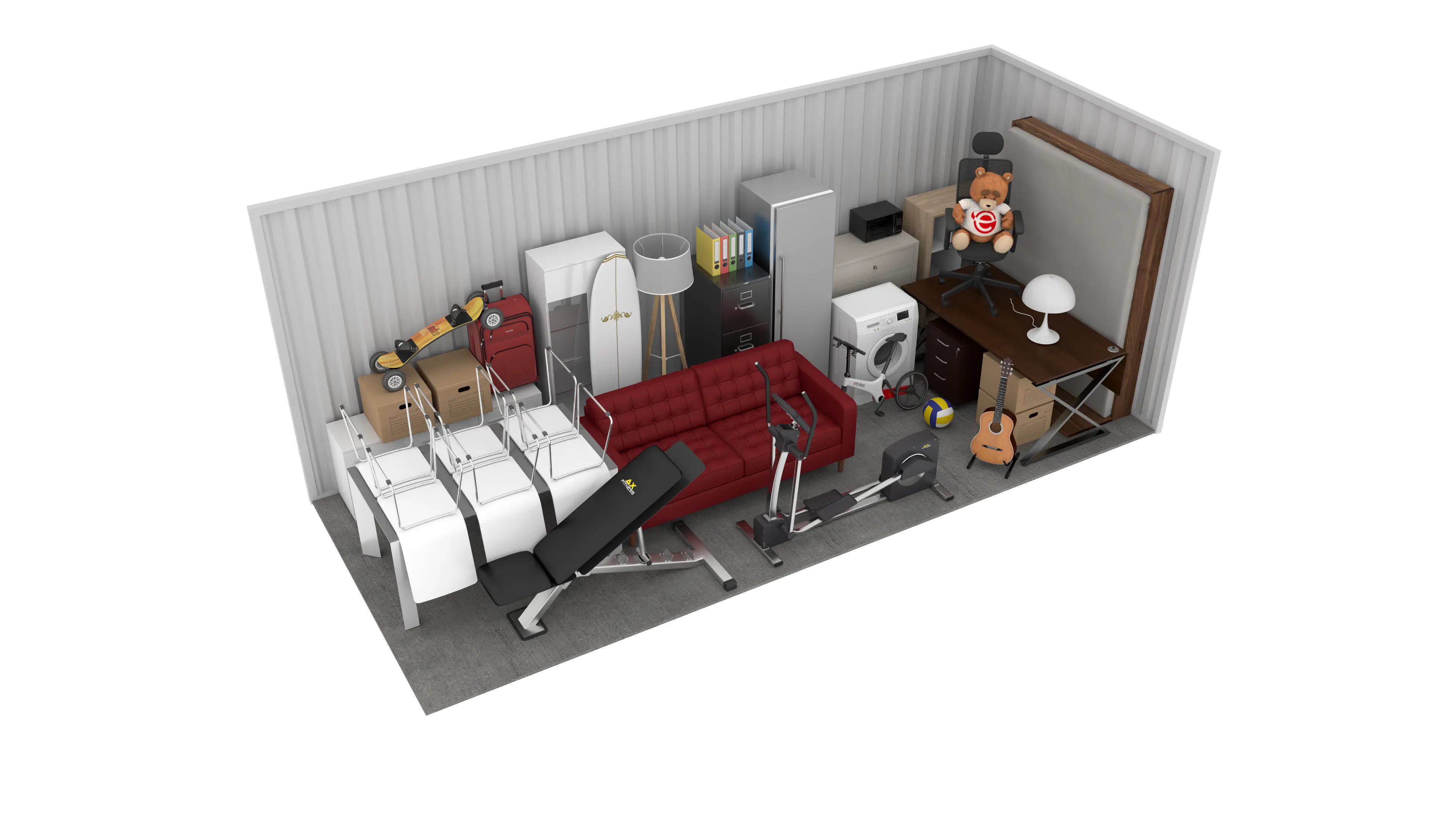 zoom_in
175 sq ft
Ideal size for the contents of a four bed house.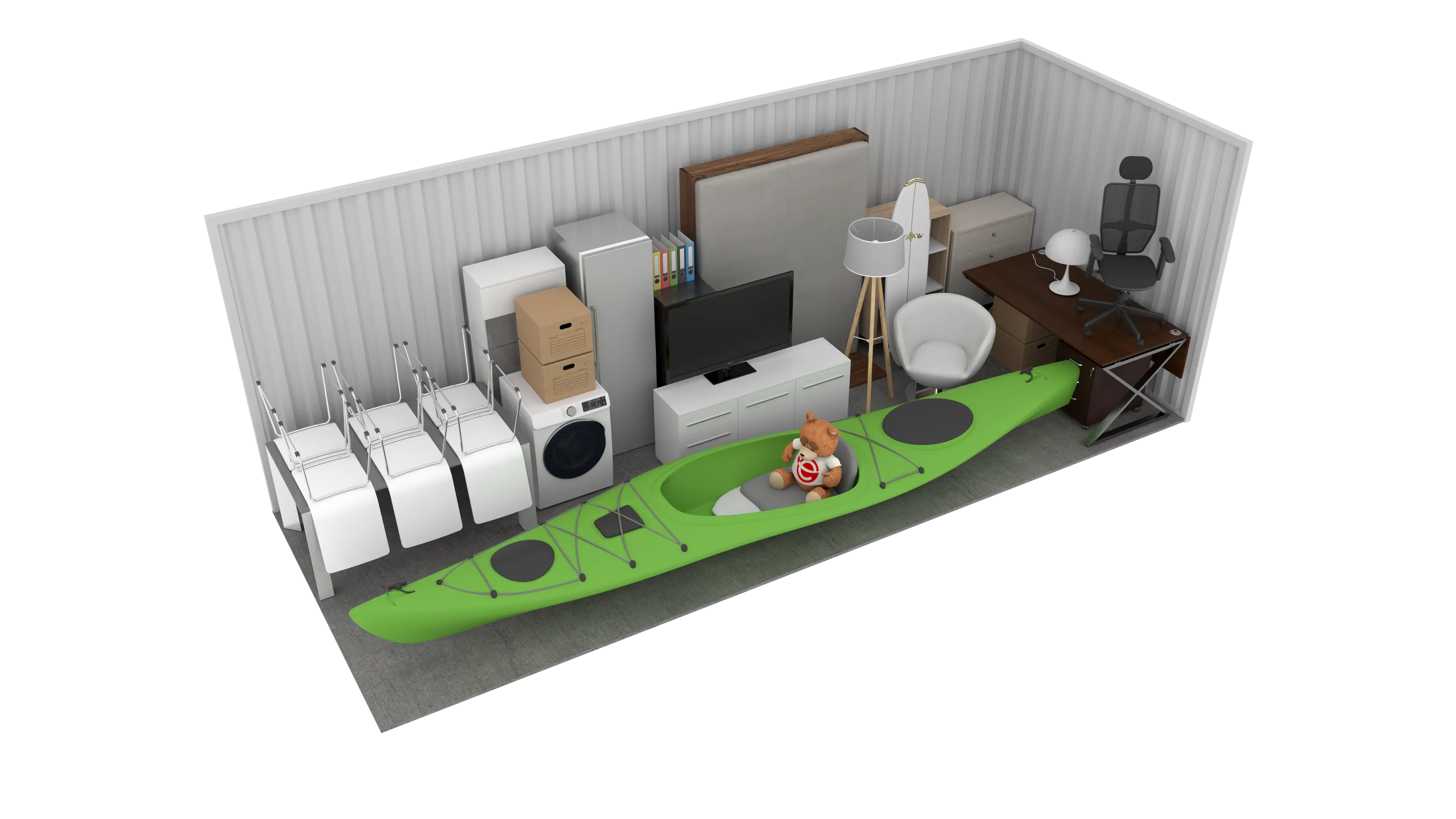 zoom_in
200 sq ft
A big unit suitable for a large 4 bed house.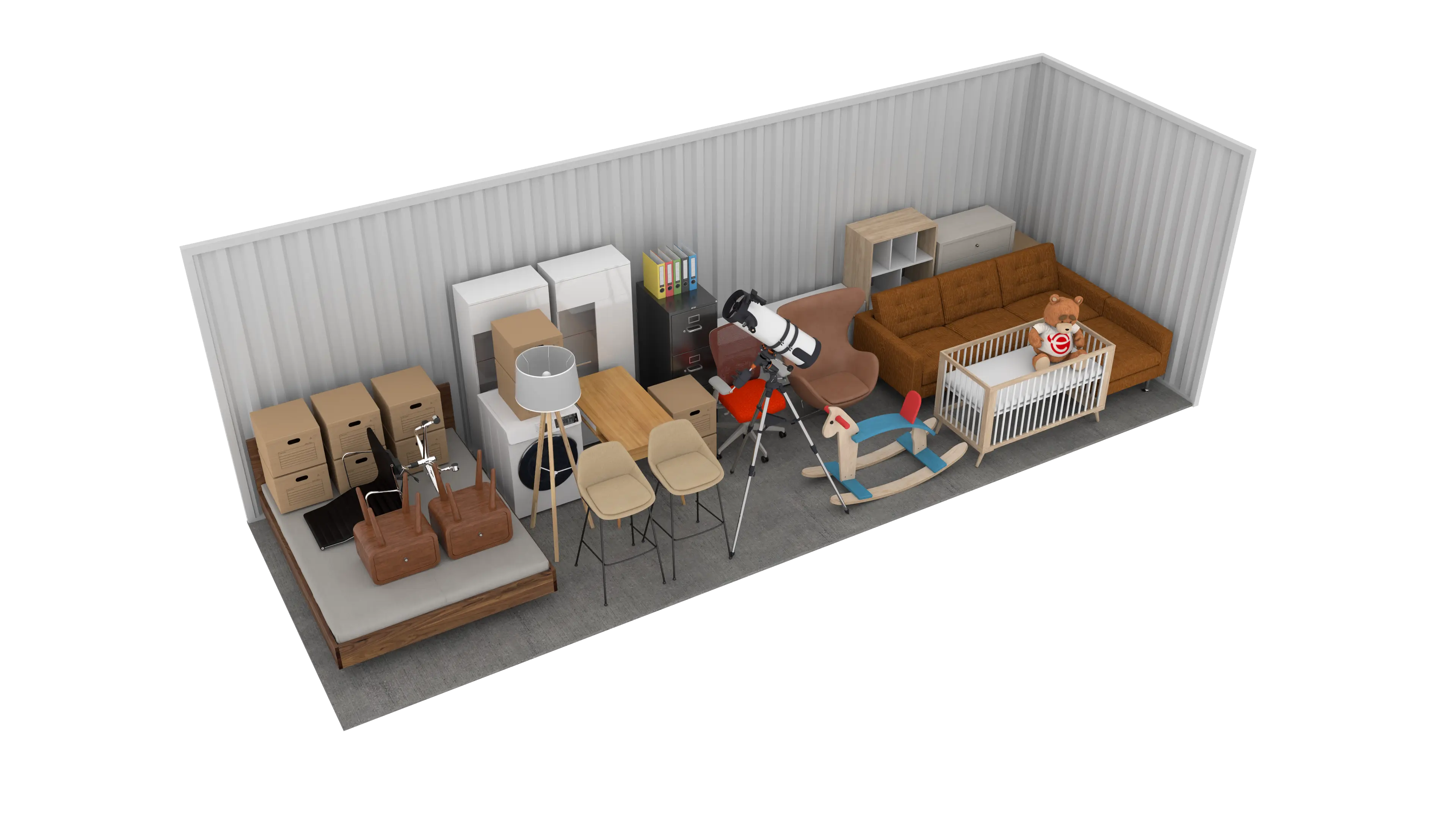 zoom_in
240 sq ft
Great for a 4/5 bed house or larger business use.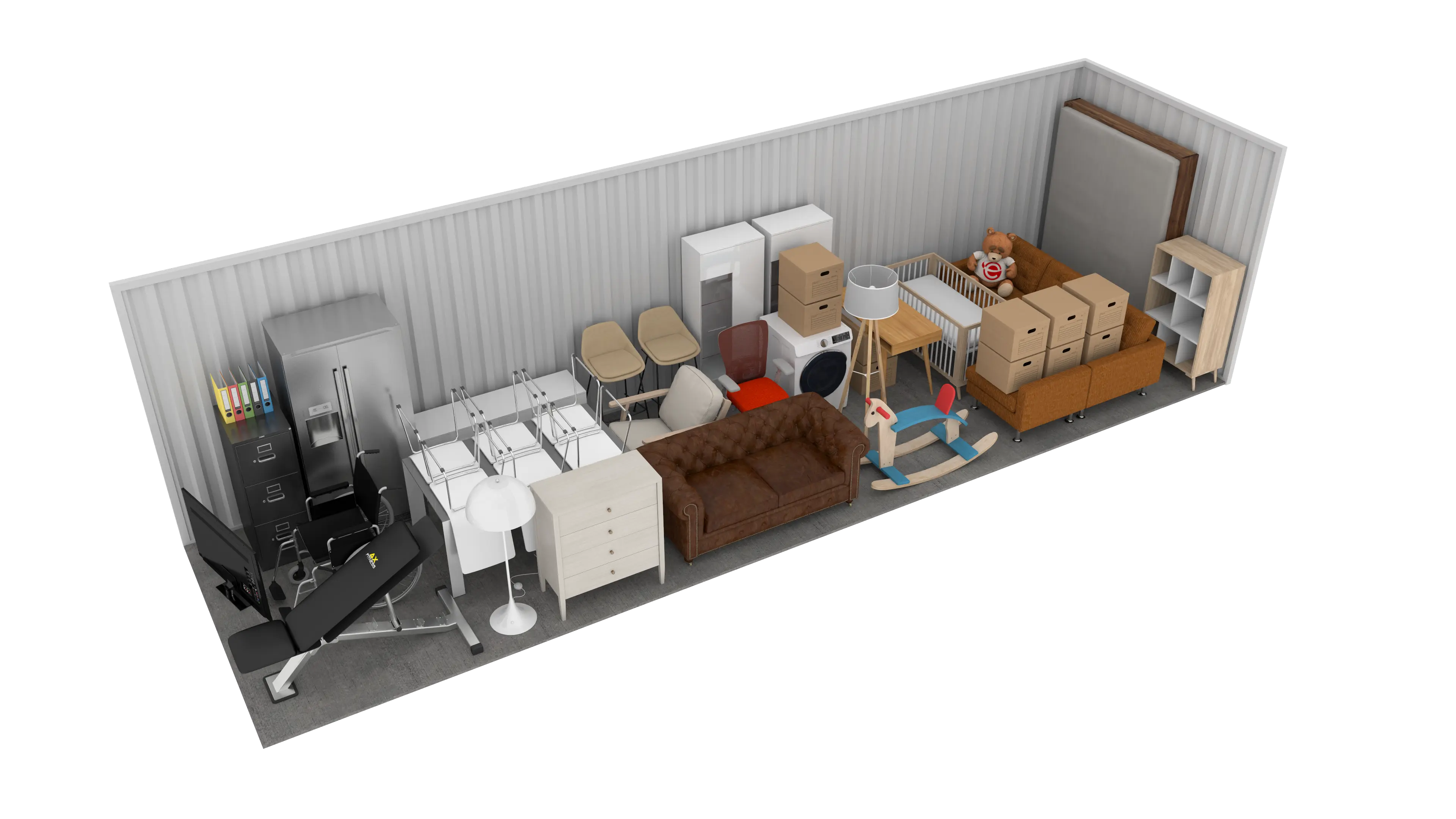 zoom_in
250 sq ft
Ideal for the contents of a 5 bed house; useful for business relocations.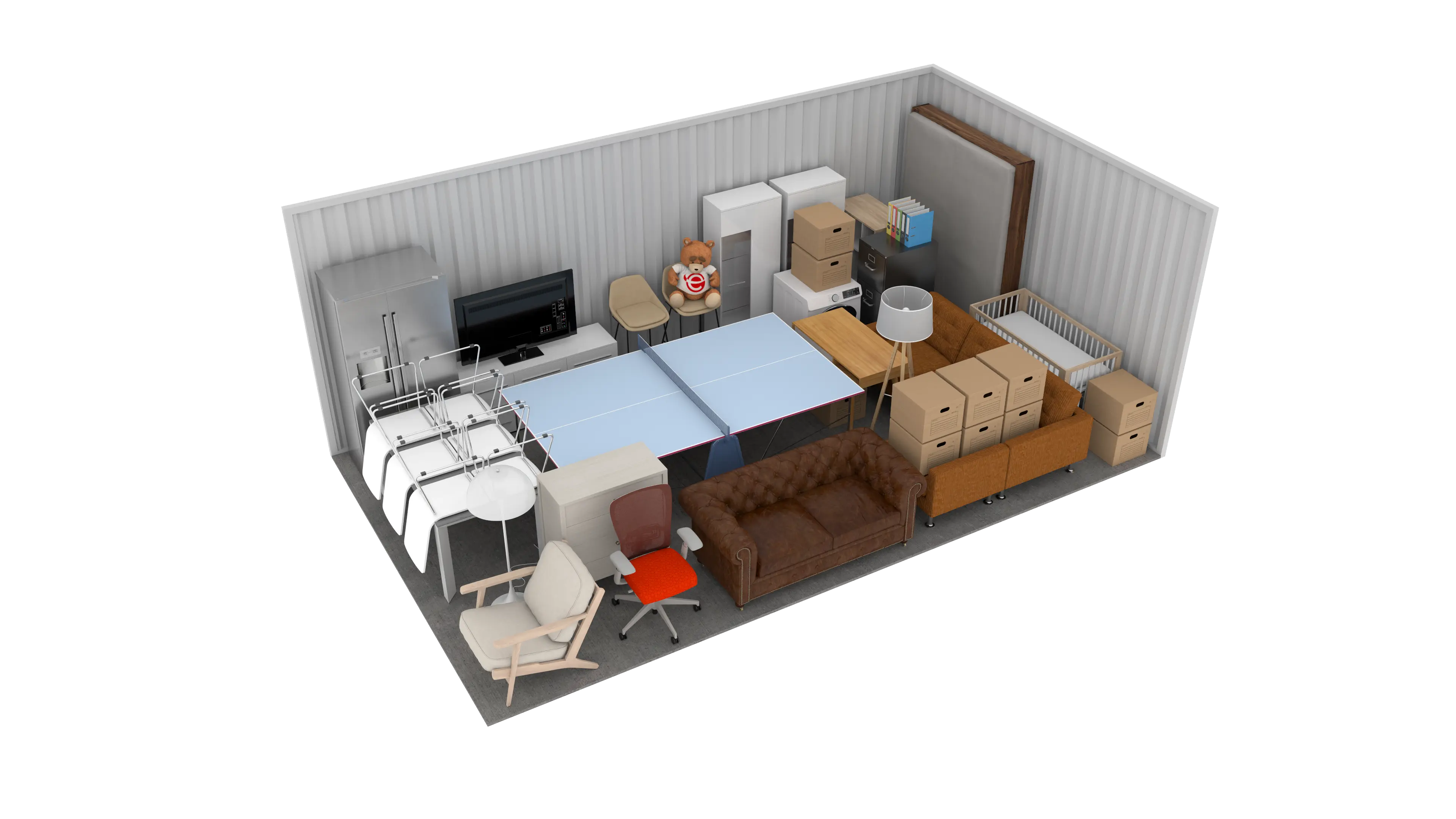 zoom_in
300 sq ft
A big space good for a 5 bed house or small business inventory.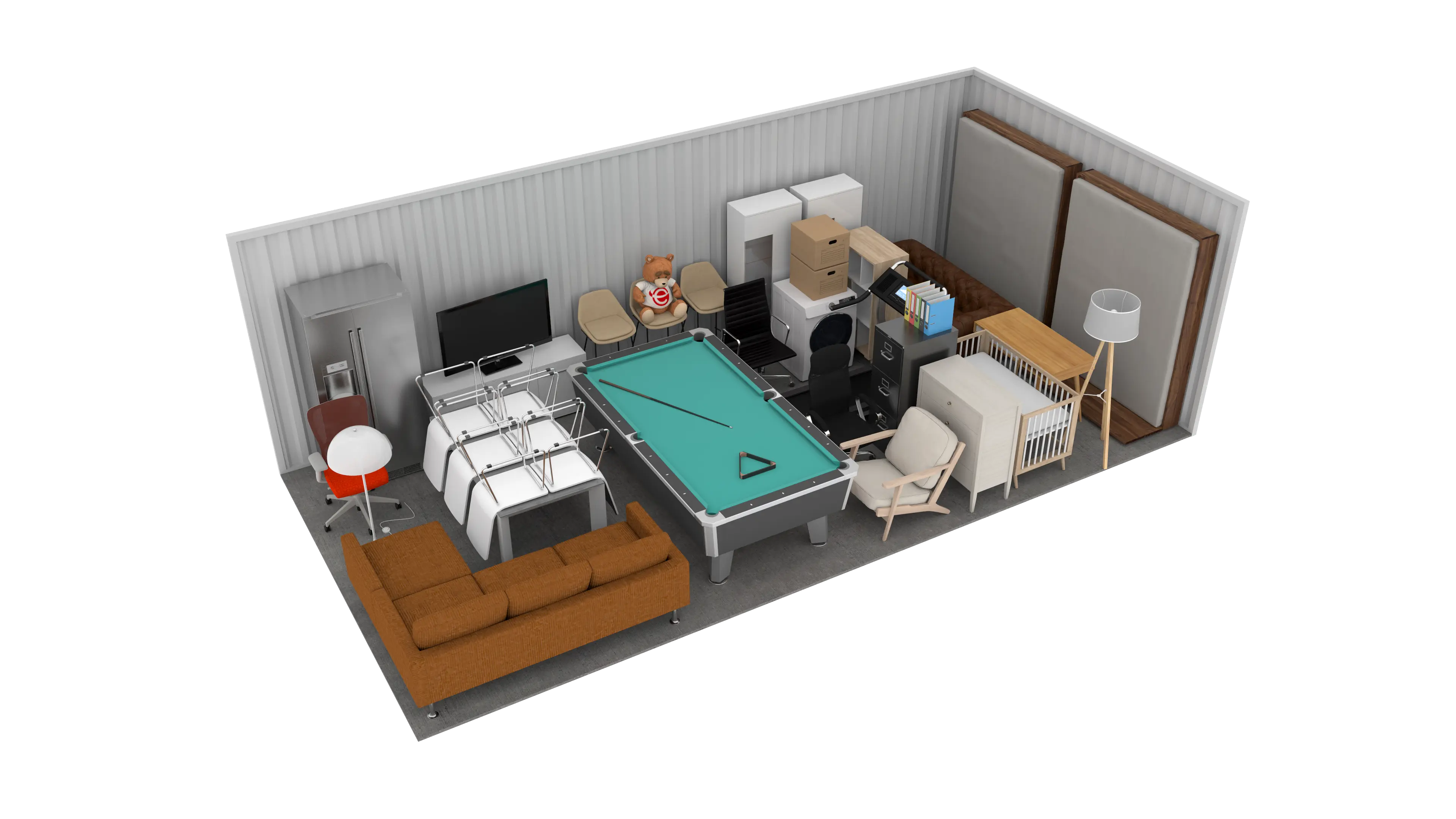 zoom_in
320 sq ft
Good unit for the contents of a large 5 bed house.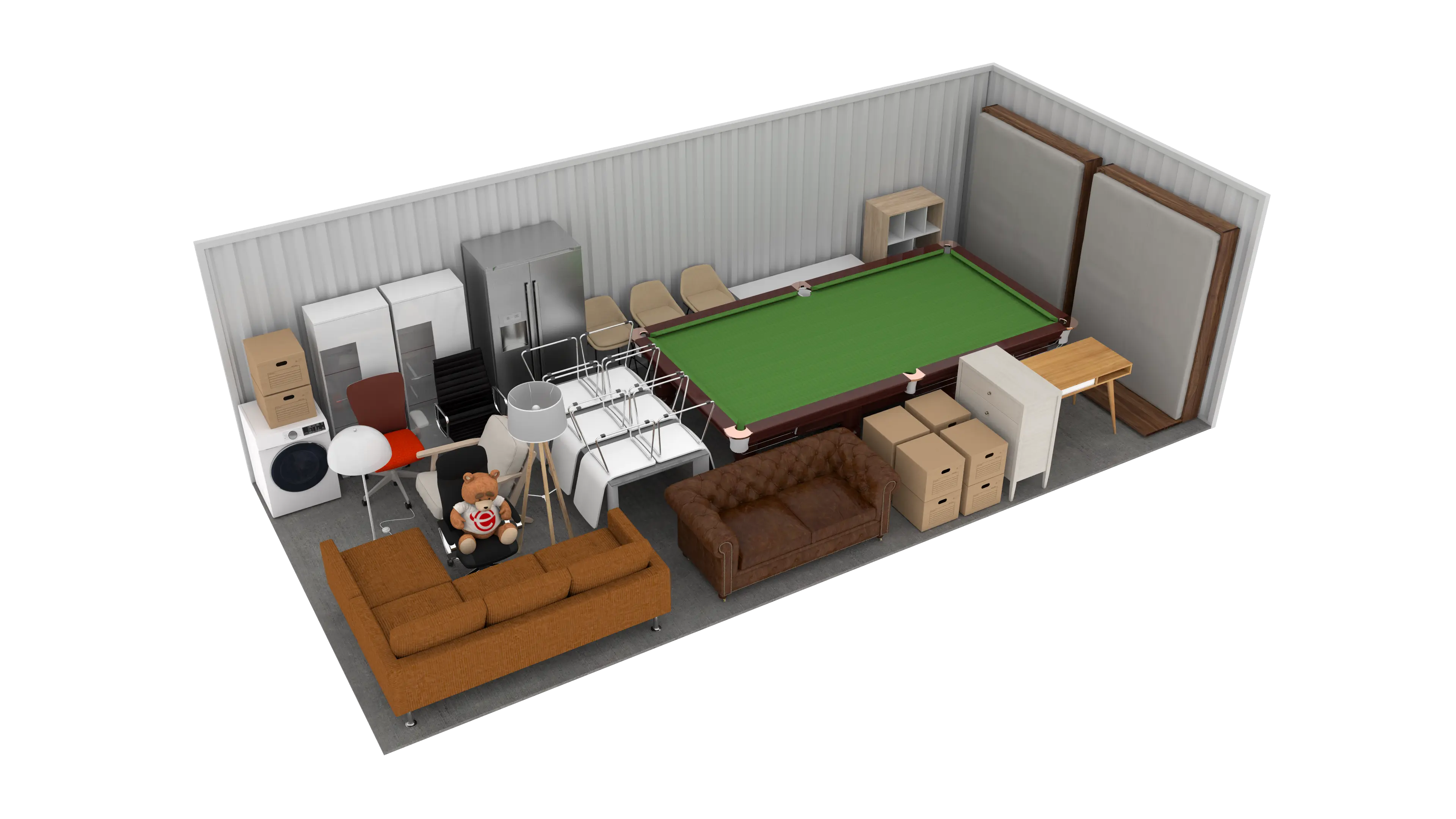 zoom_in
350 sq ft
Great size for the contents of a 6 bed house and garage.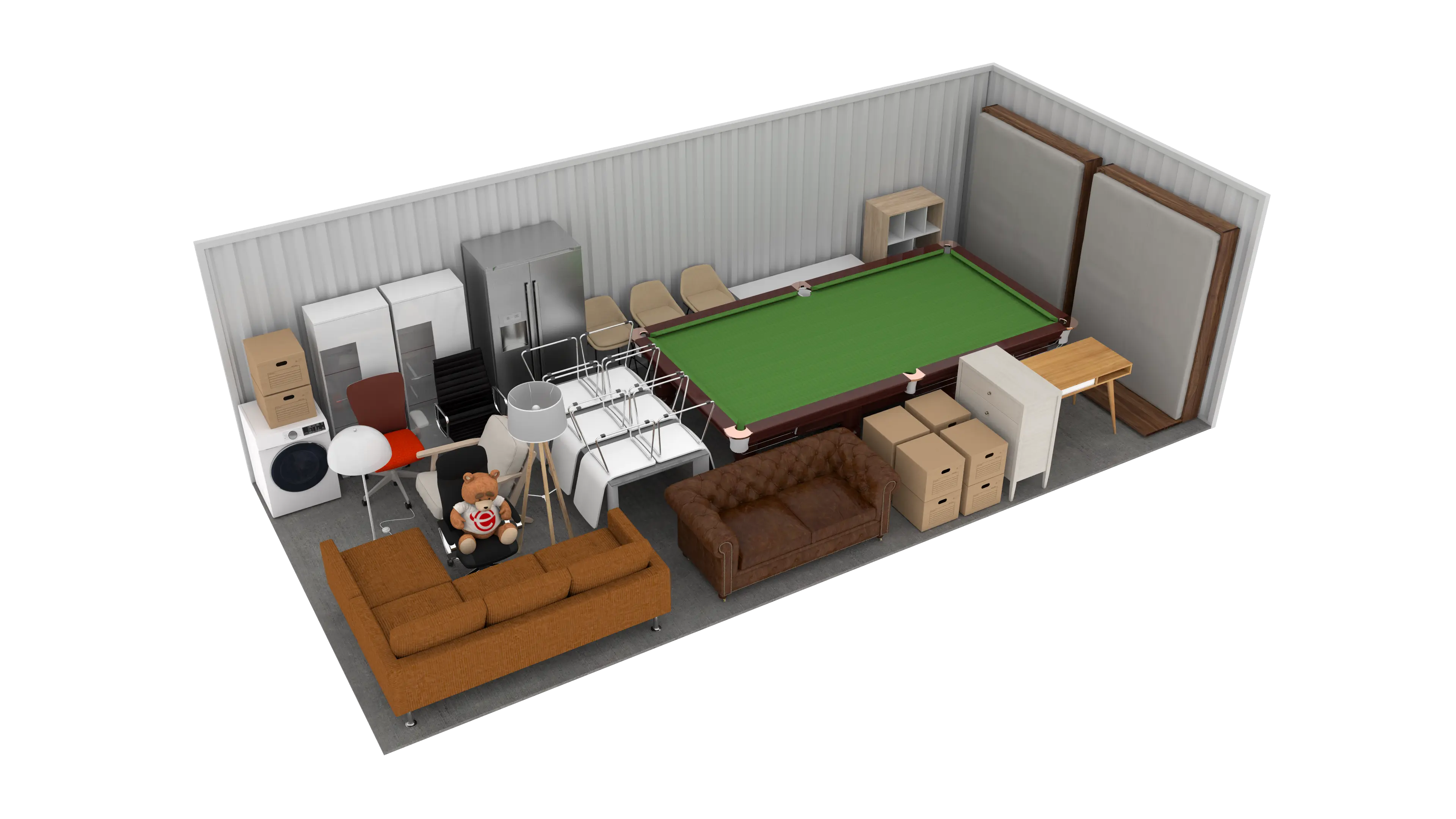 zoom_in
400 sq ft
Very large unit good for businesses or a 6 bed house, garage, and shed.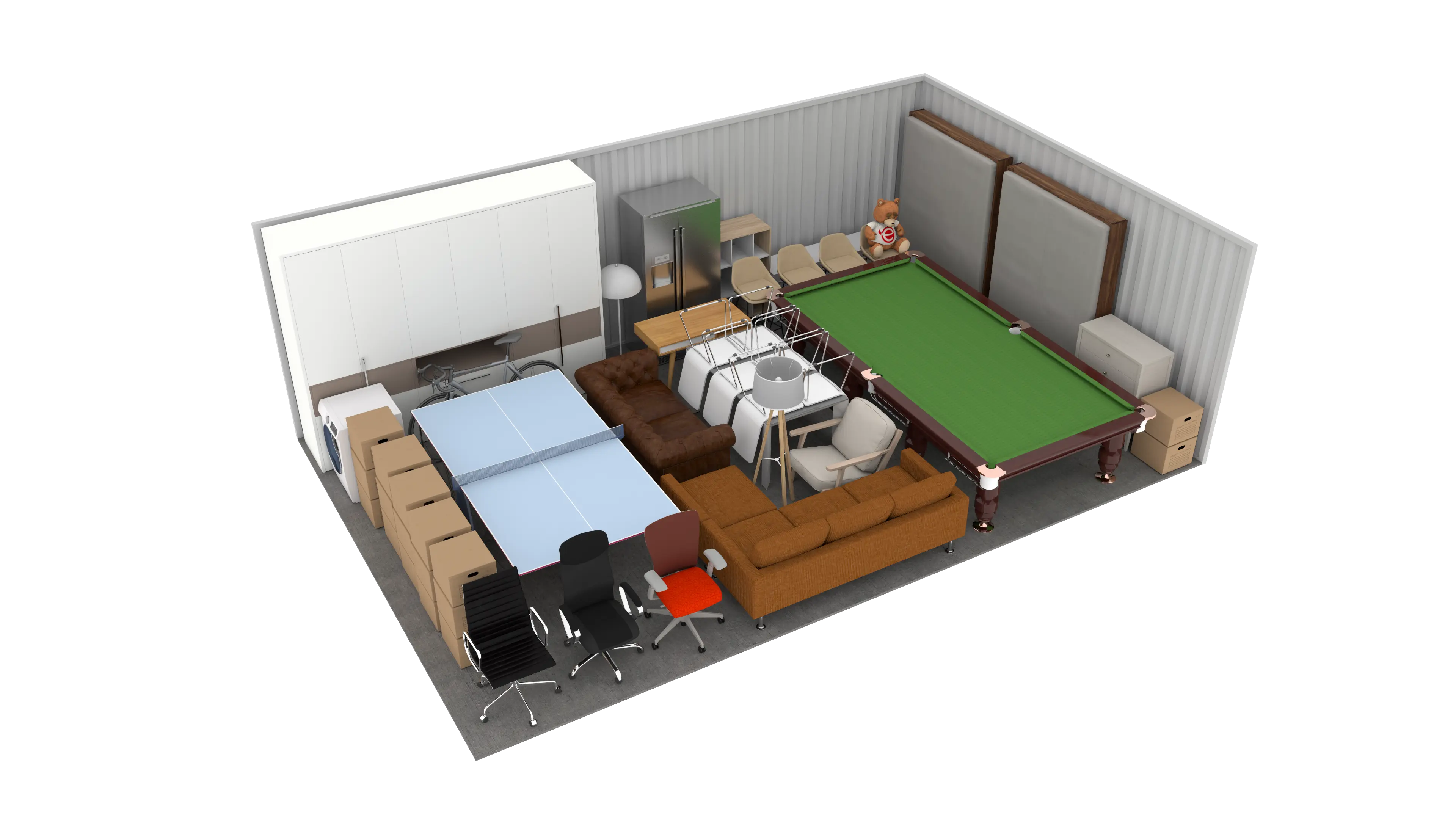 zoom_in
500 sq ft
Ideal for businesses with large quantities of stock.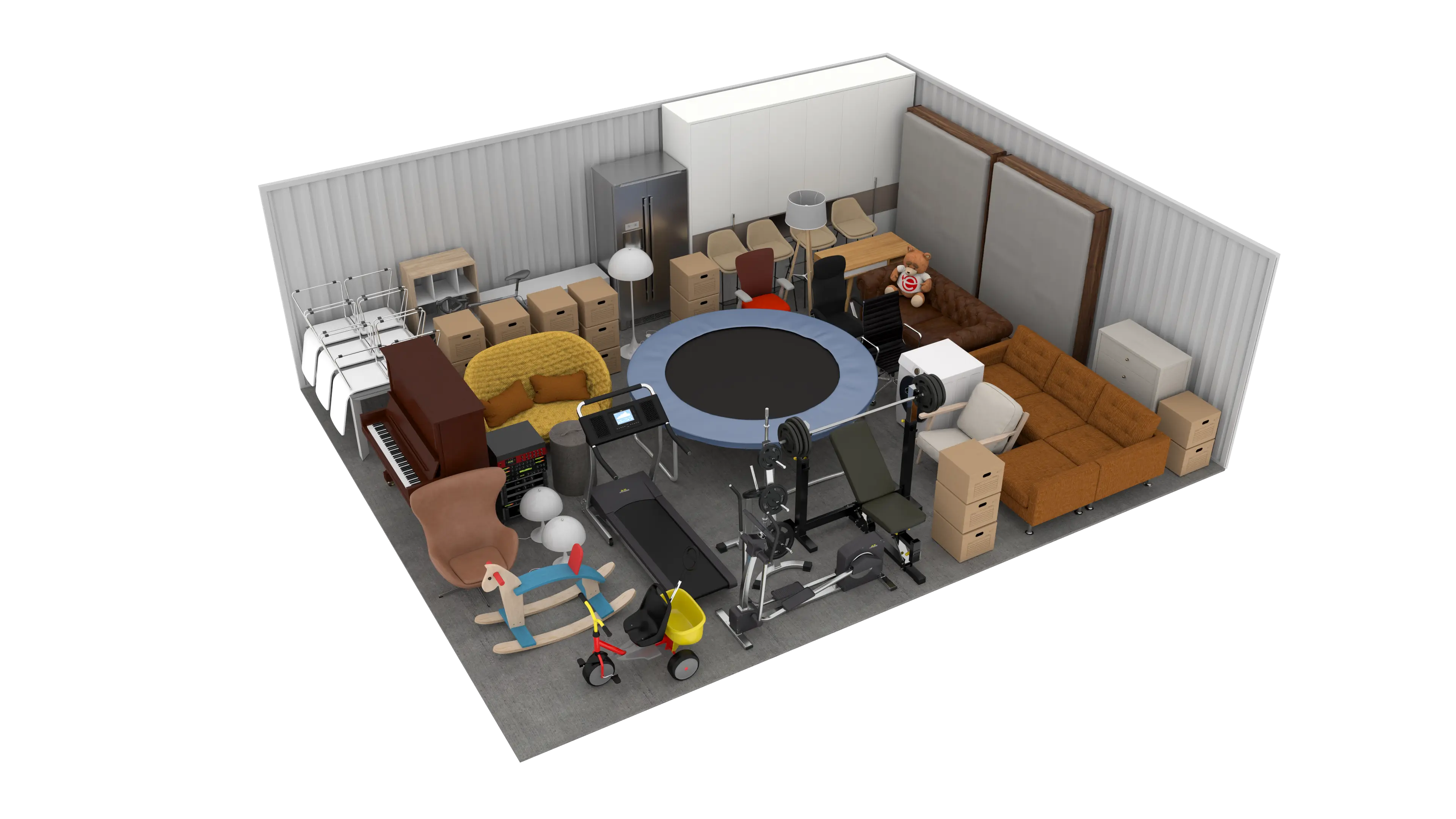 zoom_in
1000 sq ft
The size of a typical small industrial unit, great for businesses with equipment.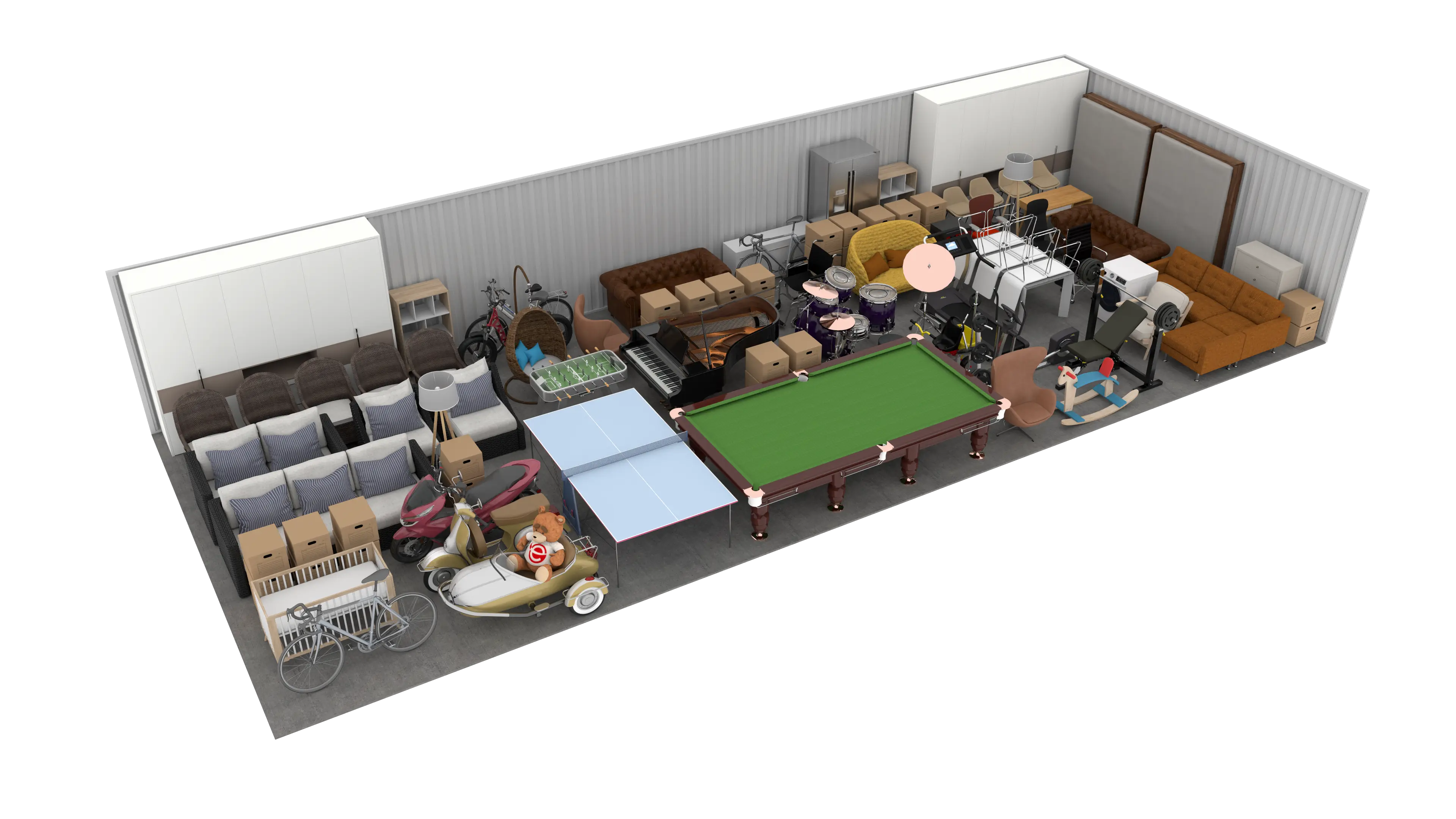 zoom_in
1160 sq ft
Mid-size industrial unit size, good for businesses with large equipment.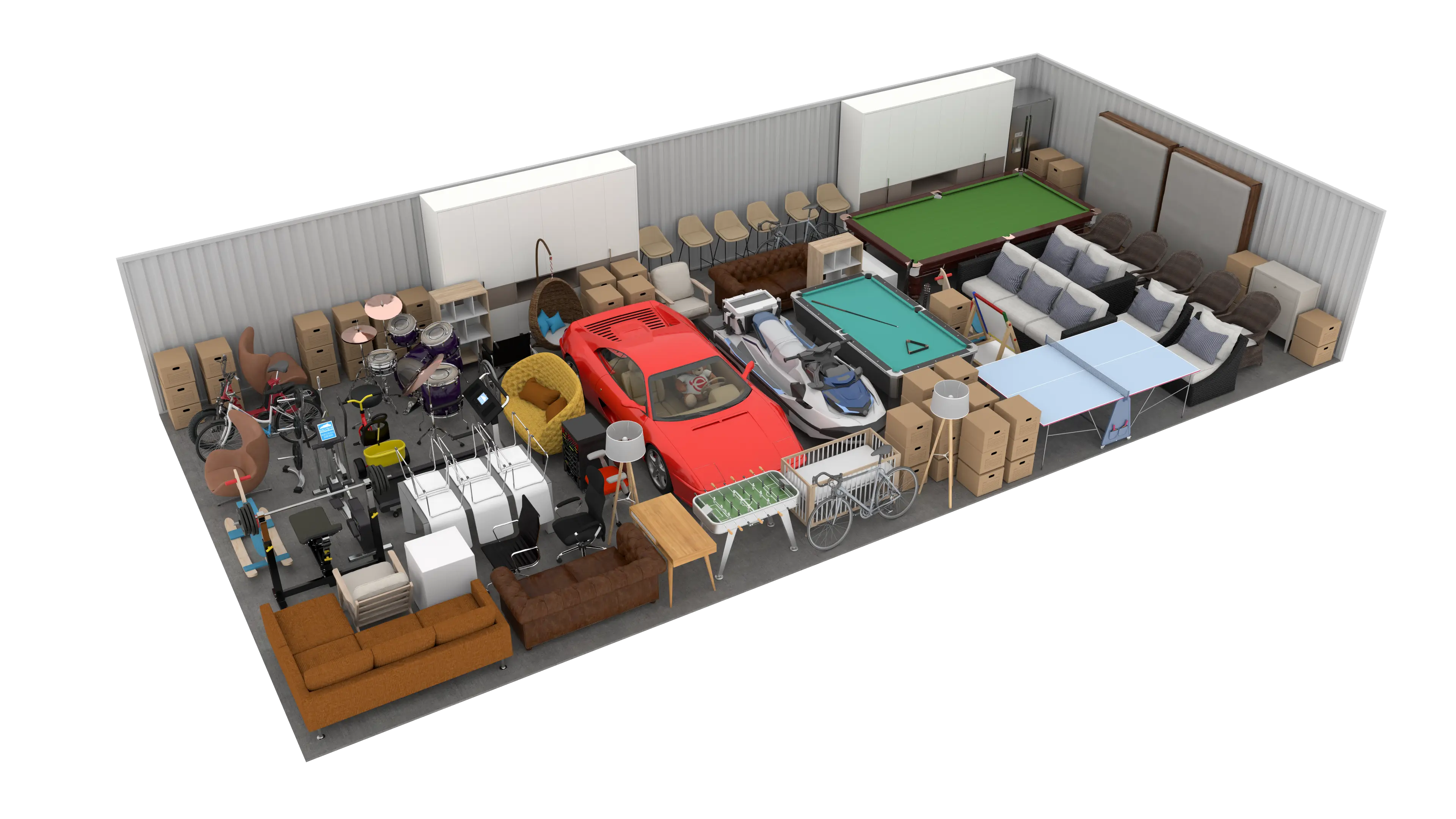 zoom_in
4000 sq ft
Larger industrial unit size with space for vehicles and equipment.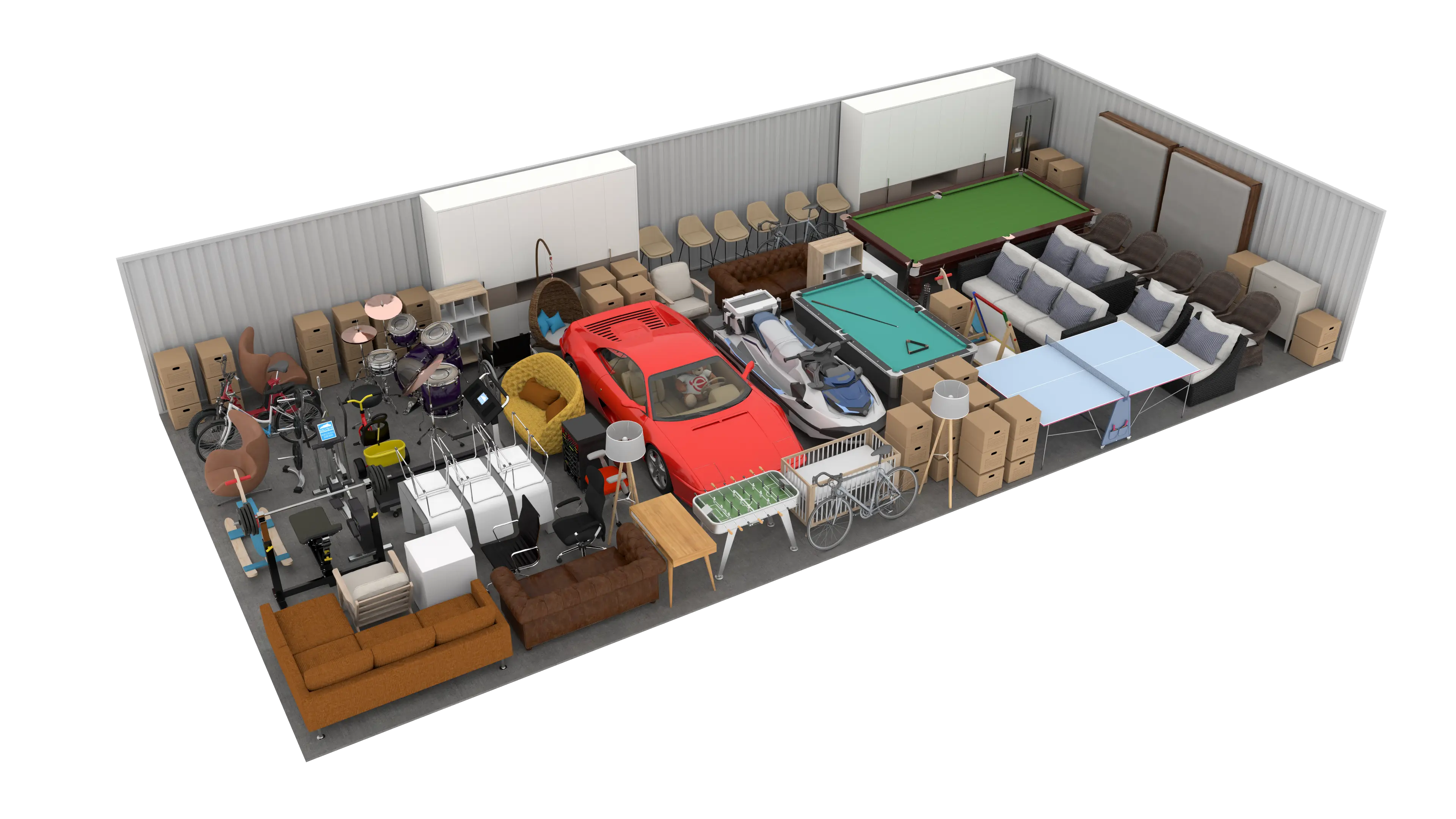 zoom_in
FAQ's
Frequenty asked questions
Will there be staff on hand to help me move in?

add

maximize

Lots of storage facilities have staff on site who can help, especially the indoor storage warehouses. Check out the individual operator pages to find out more, or add this to your filter options when searching for self storage.
Is self storage secure?

add

maximize

Most self storage facilities go to great lengths to make their storage spaces as secure as possible - they don't want problems any more than you do. Members of The Self Storage Association are required to provide a minimum level of security including CCTV systems, a secure perimeter and meeting all fire and safety regulations. To find the best self storage near you, be sure to filter by security requirements when searching.
Can I access my contents whenever I want?

add

maximize

It varies. Many storage facilities now offer 24/7 access, although for some this is a premium service. This will be detailed in their individual listing on Explorage. Some facilities offer access during normal working hours, and some don't offer access at all and collect/bring your stuff to you. Have a think about what you might need and use our filter options to tailor your search results and find the best self storage near you.
How much does self storage cost?

add

maximize

Like renting a house, the cost of storage can vary depending on the space you need and where you need it. Industry reports suggest an average of £69 a month for a 60ft2 unit, with an average shipping container of 160ft2 coming in around £130 per month. Remove the guessing with our accurate space calculator so you only pay for what you need.
How much does Explorage charge?

add

maximize

Explorage is an entirely free service for people booking storage. A small commission-based fee is collected from the storage business when you move in, much like other marketplaces such as booking.com or Airbnb. If you're a storage operator, check out our pricing page for full details.
Is there a minimum rental time?

add

maximize

Each storage operator will have their own terms and conditions which will specify the minimum rental period. This is usually a month, but some operators offer shorter terms. Check out the individual operator pages to find out more.
Self Storage Facility Reviews